Picture of the Day: Barack Obama Brandishes a Baguette
The president visits a D.C. deli and brings a bite to eat to a meeting with Congressional leaders.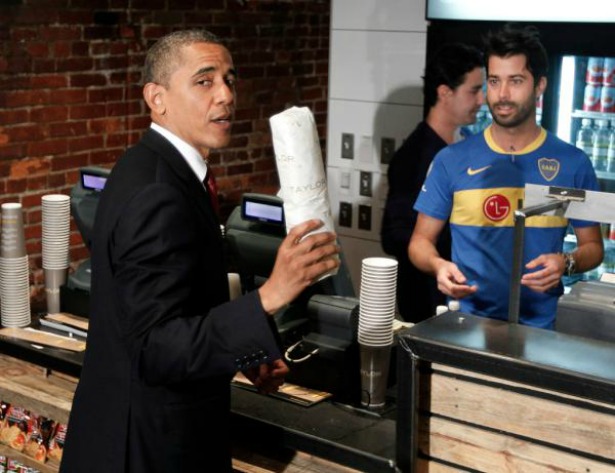 Wednesday morning, the president visited Taylor Gourmet, a D.C. sandwich shop, where he conducted a small-business roundtable. (Presumably, his political advisers figured it would be bad economic optics for him to visit the rival Washington deli Breadline.) While there, he also picked up a bite to eat -- and, evidently, brandished it at reporters. Obama's next stop was a meeting with congressional leaders; he quipped, "I'm going to offer them some hoagies." If sharing sandwiches is all it takes to prevent another debt-ceiling showdown, we have some very serious questions about the administration's bargaining strategy last time around.
The pool reporter helpfully conveyed that Obama ordered the 12-inch Spruce Street hoagie, which features roast turkey, prosciutto, roasted red peppers, and sharp provolone. It remains unclear what he brought for the congressional leaders, but you can save your jokes about San Francisco's Nancy Pelosi asking for the vegan sub with sprouts. Obama paid $62.79 in total.
This photo is already a meme, because of course it is. Here's your bonus picture of the day. Provide your own captions in the comment section.