Pandering to the South 2.0: The Democratic Convention in Charlotte
There won't be any appeals to guys with confederate flags on their pickup trucks -- just plenty of barbecue sauce and an official stock car.
Howard Dean raised eyebrows back in 2003 when he told an interviewer, "I still want to be the candidate for guys with Confederate flags in their pickup trucks. We can't beat George Bush unless we appeal to a broad cross-section of Democrats." The odds of Barack Obama repeating that mistake are slim to none. But that doesn't mean Democrats aren't engaging in some signalling.
Beyond holding their convention in Charlotte, North Carolina, the DNC is making sure to associate itself with Southern culture, as recent emails sent out to the party faithful make clear. For example:
Back in February, we launched a search for the best BBQ sauces to become the official sauces of the 2012 Democratic National Convention. We were looking for the best sauce in three different categories that represent the different regions of the Carolinas -- a western North Carolina tomato-based sauce, an eastern North Carolina vinegar-based sauce, and a South Carolina mustard-based sauce. We were excited to receive 30 different sauce submissions from around the country. The sauces ranged from homemade to nationally recognized brands.

There's even related merchandise in an online store: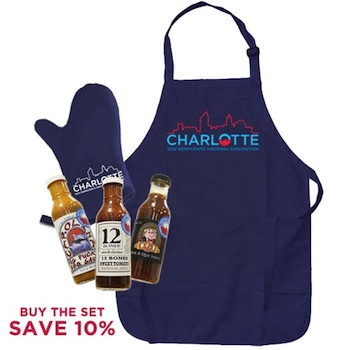 I wonder how that mitt snuck in there.
Then there's the email that came with David Axelrod's name attacked to it:

This opportunity is so unique I wanted to make sure you knew all about it. For only $5, the Charlotte in 2012 Convention Host Committee will put your name on a the Convention's official stock car. Not corporations' or lobbyists' names; just the names of folks pitching in to build the grassroots network that's making this convention possible.

I hope there's more to come. One possibility: swapping out the
aluminum water bottles
they're selling in the online store with big Styrofoam cups of sweet tea.