Obama's Tightrope Walk on Private Equity
Why is the president trying so hard to split hairs in his Bain attacks? Just look at where the campaign cash is going.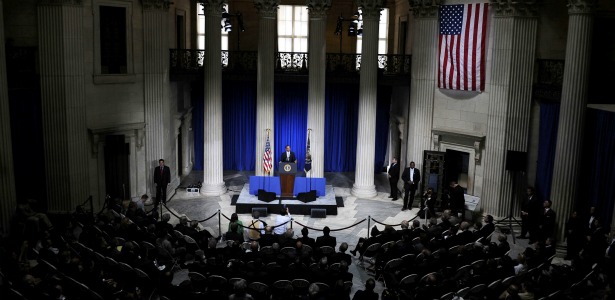 Here's the most important figure to remember during the sudden debate over the merits of the private equity industry: $102 million. That's the total amount the securities and investment industry -- in other words, Wall Street -- has contributed to federal candidates through March of this election cycle, according to the Center for Responsive Politics.
Here's the second most important figure to remember: Roughly $40 million of that has landed in the pockets of Democratic candidates. That kind of financial muscle helps explain the backlash against President Obama as he takes on Republican Mitt Romney's record at Bain Capital, and the tightrope Obama is walking as he tries to keep the money flowing even as he dismisses Romney's job as no qualification to be president.
Most of the Democrats going public with their concerns have personal ties to private equity: Steve Rattner, Obama's former "car czar," a veteran Wall Street financier; former congressman Harold Ford, who has worked at Merrill Lynch and Morgan Stanley since leaving Congress; and Newark Mayor Cory Booker, who has received -- the Washington Post reported -- contributions from financial firms and has relied on them to help reform schools in his city.
They and other Democrats no doubt have legitimate concerns about their party becoming branded as anti-business - a politically hazardous label the Romney campaign is eagerly promoting. But there's likely as much or more fretting about an important source of campaign cash going dry. Democrats can examine their own president's fundraising to find a cautionary tale about the perils of crossing Wall Street.
Obama was king of Wall Street fundraising four years ago, hauling in more than $15 million from the industry, according to CRP. Republican presidential nominee John McCain managed just $9 million. But Obama raised that money before pushing through tightened regulation in the Dodd-Frank financial reform bill, leveling a series of perceived personal slights at the financiers themselves, and presiding over a still-sputtering economy (for a full account of the president's Wall Street money problems, read this New York Times Magazine feature). In the aftermath, his financial prowess has been greatly diminished.
Through April, CRP found the president had raised just $3 million from securities and investment firms. Romney, a veteran of the business, had more than doubled that total, collecting $8.5 million in contributions.
Obama can still bank on single-night, $15 million fundraisers with George Clooney. He's got another potential record-breaker on tap June 4 with Bill Clinton. Even so, he has taken great pains to distinguish his questioning of Romney's record at Bain from an attack on private enterprise itself.
"My view of private equity is that it is set up to maximize profits, and that's a healthy part of the free market," Obama told reporters Monday in Chicago. "I think there are folks who do good work in that area. And there are times where they identify the capacity for the economy to create new jobs or new industries, but understand that their priority is to maximize profits. And that's not always going to be good for communities or businesses or workers."
The delicate distinction Obama was trying to make has been largely lost -- maybe because the Romney campaign doesn't let a day go by without repeated references to Obama's "attacks on free enterprise."