Obama's New Surrogate on Women's Issues: 'Julia'
As the president and Mitt Romney battle for women's votes, Obama rolls out a fictional character to demonstrate his policies' impacts.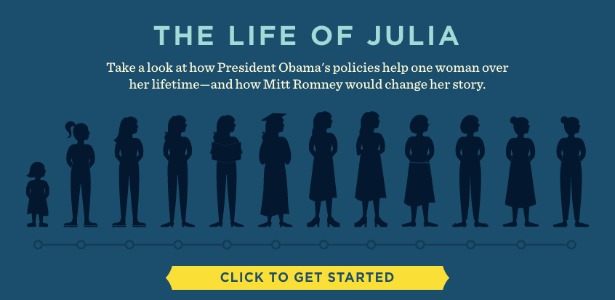 The 2008 campaign had Joe the Plumber. In 2012, we have "Julia," a fictional woman created by the Obama campaign to show his strengths on women's issues.
On Thursday, the campaign launched a webpage called "The Life of Julia," tracking how the president's policies have helped her throughout her lifetime and contrasting those to Mitt Romney's policies.
Starting at her childhood and ending at retirement, each slide shows an older Julia and a new policy. For example, at 31 years old, a visibly pregnant Julia is at the doctor's office. The caption reads, "Under President Obama: Julia decides to have a child. Throughout her pregnancy, she benefits from maternal checkups, prenatal care, and free screenings under health care reform." As for Romney's policies, the site says, "Health care reform would be repealed."
Republicans are attempting to win back women voters after a damaging contraception debate months ago, and polling shows Obama with an advantage with this key demographic. Romney has often dispatched his wife, Ann, to different campaign stops, and he has held events featuring female business leaders.
On Wednesday, Romney held an event at a female-owned company in Chantilly, Virginia. The Romney campaign says their rival's policies are actual the ones that have been detrimental to women.
"Each night, too many women go to sleep wondering if they can pay the mortgage, if they can afford to put food on the table, and if their children will have a job after graduating from college," campaign spokeswoman Amanda Henneberg told National Journal in an email. "Nearly a million more women are out of work under President Obama while female poverty is at its highest level in nearly two decades. By all accounts, President Obama's policies have failed women, like all Americans, and they deserve a president who will focus on getting America back on track."