Obama's Choice to Lead Nuclear Agency Delights Senate Democratic Leader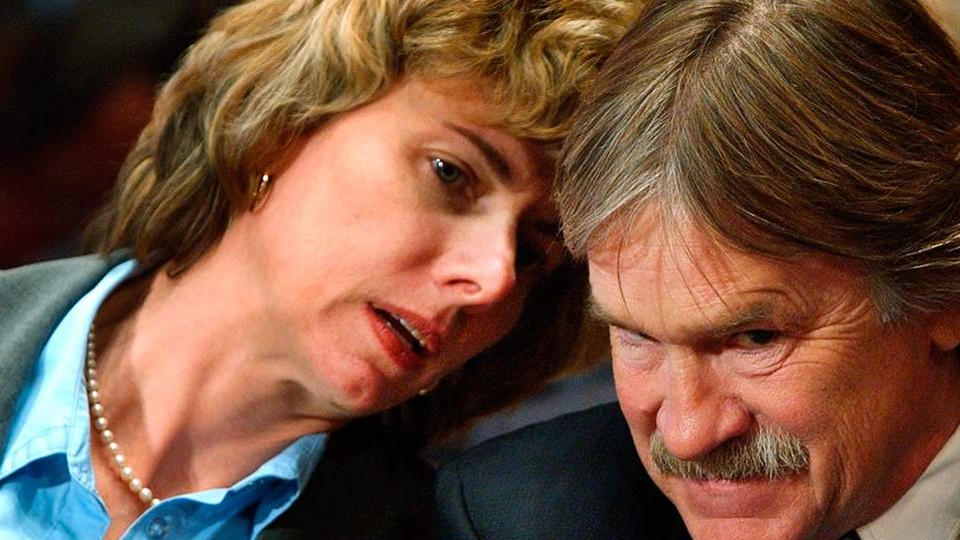 In a bow to Senate Majority Leader Harry Reid, D-Nev., the White House said on Thursday that President Obama plans to nominate Allison Macfarlane, an associate professor of environmental science and policy at George Mason University, to head the Nuclear Regulatory Commission.
The announcement came just three days after Gregory Jaczko, a former aide to Reid, revealed that he would step down as NRC chairman as soon as a replacement is named by the president and confirmed by the Senate. Jaczko has been at the center of a growing controversy since late last year when the other four NRC commissioners challenged his management style.
Macfarlane is a well-known critic of the now-defunct nuclear-waste repository at Yucca Mountain in Nevada that Reid fought vigorously to shut down after more than a decade of studies and construction. She also served on the Obama administration's blue-ribbon panel that issued a report in January on finding solutions for storing the nation's spent nuclear fuel.
Reid, who unsuccessfully tried to get Macfarlane a seat on the NRC in 2007, immediately issued a statement of support for her nomination as Jaczko's successor.
"I am confident that like her predecessor, Dr. Allison Macfarlane will make preserving the safety and security of American citizens her top priority as chair of the Nuclear Regulatory Commission," Reid said. "Dr. Macfarlane's education and experience, in particular her service on the Blue Ribbon Commission on America's Nuclear Future, make her eminently qualified to lead the NRC for the foreseeable future. The nuclear industry has a perfect opportunity to demonstrate a commitment to safety by supporting Dr. Macfarlane's nomination."
Democrats are relieved by the speedy appointment, especially after Jaczko suggested on Wednesday that he would be willing to remain on the NRC until his current term expires on June 30, 2013.
"I am thankful that the president moved quickly to nominate a new Nuclear Regulatory Commission chairman to replace Chairman Jaczko," said Sen. Thomas Carper, D-Del. "As only the second woman to ever be nominated as chair of the Nuclear Regulatory Commission, Dr. Allison Macfarlane's expertise, experience, and past leadership on nuclear issues should make her a good candidate for this important position."
While Reid and other Democrats may be happy about the choice, Macfarlane may face a tough battle for a Senate confirmation, given her critical work on Yucca Mountain, including a book raising questions about the facility's safety.
"I think there's a lot to be said for "¦ Macfarlane, but it would be a nightmare confirmation battle," said James Acton, a senior associate in the Nuclear Policy Program at the Carnegie Endowment for International Peace.
Still, the Senate is currently weighing the renomination of another woman already on the commission, Republican Kristine Svinicki, who has ignited a political fight in the upper chamber. Reid and Senate Environment and Public Works Chairwoman Barbara Boxer, D-Calif., have openly criticized Svinicki, raising concerns among Republicans about her future at the agency.
Boxer has held off on announcing a hearing for Svinicki's nomination, but some senators — including Reid — say they could expect a one-two punch with the two nominees. Boxer confirmed on Thursday that will be the case. "I plan to have a hearing on both of them," she told National Journal.
"I believe the best interests of the public would be served by moving the nominations of Dr. Macfarlane and Ms. Svinicki together before Ms. Svinicki's term expires at the end of June, to ensure that we have a fully functioning NRC," Reid said in his statement.
"My hope and what I will be pushing for is quick action. Kristine Svinicki, her term is up end of the end of June," Senate Energy and Natural Resources ranking member Lisa Murkowski, R-Alaska, told National Journal earlier on Thursday. "I'm hopeful that we can use this as an opportunity to do what we do around here, which is pairing.
"Let's get Svinicki in and let's get whoever this individual may be," Murkowski added, "let's get them moving through the process, in their hearings, and have the commission at full capacity."
Still, some Republicans said they would not support Reid's floor plan to nominate both Macfarlane as NRC chairwoman and Svnicki to another term as commissioner at the same time.
"I think that might be an unfair bargain," Sen. John McCain, R-Ariz., told reporters shortly after the White House announced the nomination.  "But I'm not surprised Senator Reid suggested it."
When asked if the plan could attract GOP support, McCain laughed and said, "Not right away."
Some senators also seemed generally unaware of who Macfarlane is at all. Sens. Dianne Feinstein, D-Calif., and Bernie Sanders, ID-Vt., both didn't know who she was when asked about her.
Asked about Reid's plan to bring the nominations to the floor simultaneously, Feinstein replied: "If the leader wants to do that, it'll get done. It might be a good pairing. I don't know because I don't know this person."
The nuclear industry on Thursday also indicated its support for a joint confirmation.
"We urge the Senate to confirm both Commissioner Svinicki and professor Macfarlane expeditiously," said Marvin Fertel, president and CEO of the Nuclear Energy Institute, the industry's main lobbying arm.
Macfarlane, who earned a doctorate in geology from the Massachusetts Institute of Technology in 1992, has held fellowships at the Bunting Institute at Radcliffe College, the Center for International Security and Arms Control at Stanford University, and the Belfer Center for Science and International Affairs at Harvard University. She also was an associate professor of international affairs and earth and atmospheric science at Georgia Tech University.
Macfarlane joined the faculty at George Mason in 2006, the same year that MIT Press published her book, Uncertainty Underground: Yucca Mountain and the Nation's High-Level Nuclear Waste, raising questions about the safety of storing high-level nuclear waste in the planned repository. Obama pulled the plug on the facility in his first year in office.
---
Amy Harder contributed contributed to this article