Obama Visits Afghanistan, Will Make Televised Address Tuesday Evening
The president makes a surprise visit on the anniversary of Osama bin Laden's death, despite critics who say he's spiking the football.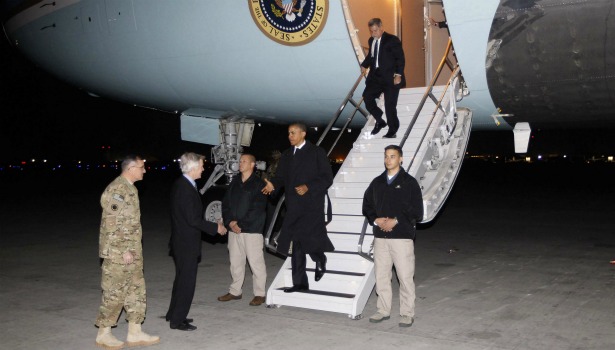 President Obama has arrived in Kabul, Afghanistan, on a surprise trip to sign a strategic agreement with Afghanistan. He will address the nation at 7:30 p.m. EDT from Bagram Air Base on Tuesday evening. In going to Afghanistan on the ninth anniversary of the most notorious example of premature presidential gloating, Obama risks turning the high point of his presidency into a political weapon for his enemies. But it will be how the president conducts himself while in the war zone that will determine if this trip is lumped in with George W. Bush's donning of a flight suit and appearing on an aircraft carrier under a "Mission Accomplished" banner.
---
MORE FROM NATIONAL JOURNAL
---
Obama has a legitimate reason for the trip, his third to Afghanistan as president. The strategic agreement he is signing is an important and needed step on the road to eventual American withdrawal from a war that has dragged on for a decade. And relations with the Afghan government have been sufficiently frayed as to require some face-to-face mending. Additionally, it is never inappropriate for the commander in chief to visit troops under fire to remind them that the nation remembers them and honors their service.
That puts the burden on the president to make the visit about the troops and about U.S.-Afghan relations and not about the anniversary of the killing of Osama bin Laden. That burden is made heavier by the preemptive shelling of the president by Republicans and their allies in the conservative media, accusing him of "spiking the football."