Major Catholic Institutions Sue Over Birth-Control Rule
Notre Dame and others challenge, on religious-freedom grounds, a rule requiring employers to cover contraception as part of their health-insurance plans.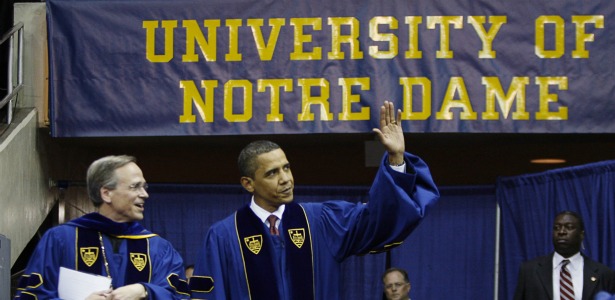 Catholic University, the University of Notre Dame, and the Archdiocese of Washington are suing the federal government over a controversial birth-control rule in the health-care law passed in 2010.
The organizations are the most prestigious Catholic instiutions challenging the rule, which requires employers to offer birth-control coverage in employee health-insurance plans, free of charge. The Obama administration earlier this year offered an "accommodation" that requires insurance companies to pay directly for the birth control if employers object on religious grounds.
The change did obviously did not satisfy many Catholic organizations. The Catholic University and Archdiocese of Washington suits were filed in the U.S. District Court for the District of Columbia; Notre Dame's challenge was filed in the U.S. District Court for the Northern District of Indiana.
"For the first time in this country's history, the government's new definition of religious institutions suggests that some of the very institutions that put our faith into practice -- schools, hospitals, and social service organizations -- are not 'religious enough,'" Cardinal Donald Wuerl, Archbishop of Washington, said in a statement.
Religious groups are exempted from the rule if they employ primarily people of their faith.
"This filing is about the freedom of a religious organization to live its mission, and its significance goes well beyond any debate about contraceptives," Rev. John I. Jenkins, Notre Dame's president, wrote in a message to members of the campus community.