Lugar Loses, N.C. Bans Gay Marriage, and an Inmate Challenges Obama
Primary elections in four states drive a Republican senator from office, nominate a Democrat to take on Wisconsin's governor, and put Romney closer to the nomination.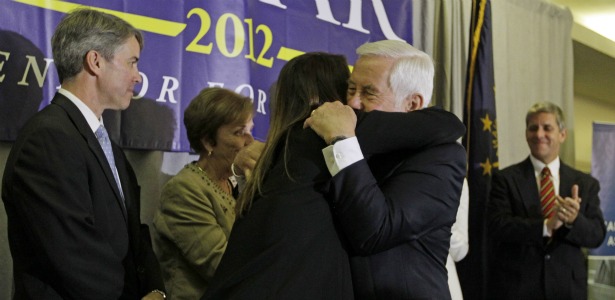 Associated Press
Voters went to the polls in Indiana, North Carolina, Wisconsin, and West Virginia on Tuesday, and while the results were widely anticipated, they nonetheless amounted to a reshaping of the political landscape. A 36-year Senate incumbent, once thought to be invincible, went down to defeat at the hands of a conservative primary challenger. A constitutional amendment banning gay marriage sailed to easy passage. Democrats chose a candidate to take on Wisconsin Gov. Scott Walker. And while Mitt Romney sailed to victory in the three states where he and his erstwhile rivals were on the ballot, it was President Obama who posted the weakest presidential primary showing of the night.
Here's what we learned from Tuesday's balloting.
* Lugar bites the dust. The end of Indiana Republican Sen. Dick Lugar's storied career, at the hands of state Treasurer Richard Mourdock, was a bitter and humbling defeat for the 80-year-old foreign-policy grandee and another notch on the belt of the Tea Party. In the end, it wasn't even close: Lugar lost by more than 20 points, drawing just 39 percent of the vote to Mourdock's 61 percent. President Obama issued a statement praising Lugar (and euphemistically referring to his "retirement"), as did Sen. John Kerry, while the national conservative groups that had blitzed the Indiana airwaves rejoiced, from the anti-tax Club for Growth to the Tea Party activists at FreedomWorks. Meanwhile, Democrats rushed to make the case that their candidate, Rep. Joe Donnelly, would be competitive against Mourdock, whom they painted as an extreme right-winger. Lugar, for his part, fired a parting shot at Mourdock on the way out that lamented the increased partisanship of the Senate: "If Mr. Mourdock is elected, I want him to be a good senator," the statement from Lugar said. "But that will require him to revise his stated goal of bringing more partisanship to Washington. He and I share many positions, but his embrace of an unrelenting partisan mindset is irreconcilable with my philosophy of governance and my experience of what brings results for Hoosiers in the Senate."
* North Carolina bans gay unions. This one wasn't close, either: The state's ballot initiative to insert a ban on both gay marriage and civil unions in the state constitution carried the day by more than 20 percentage points statewide, ending North Carolina's status as the only Southern state without such an amendment on the books. Obama had come out against the initiative, even as the past few days highlighted his continued ambivalence on whether gay marriage ought to be legal. With the Democratic convention slated to be held in Charlotte in September, the amendment's passage seemed to underscore that North Carolina has become more hostile territory since Obama narrowly won the state in 2008.
* Wisconsin Democrats pick Barrett. Milwaukee Mayor Tom Barrett lost to Republican Gov. Scott Walker in 2010, but he was seen as the most electable challenger to Walker in the recall election scheduled for June 5. Look for that race to become the center of the political universe in the coming weeks, with millions spent by both sides on a pitched battle unlike any Wisconsin has seen -- an early referendum on the sort of ideological conservatism the 2010 elections swept into office nationwide, as well as a dry run of political messages and tactics in advance of November.
* Protest votes against Romney -- and Obama. With all his rivals except Rep. Ron Paul now out of the race, Mitt Romney easily won the Indiana, North Carolina, and West Virginia primaries, giving him an estimated 911 of the 1,144 delegates he needs to clinch the nomination. But plenty of GOP voters still saw fit to register their preference for a different candidate: Romney got 65 percent of the vote in Indiana, 66 percent in North Carolina, and 69 percent in West Virginia. By comparison, the 2008 nominee, John McCain, got 70 percent or more in every primary once his last major rival, Mike Huckabee, quit the race. But the protest-vote story of the night was on the other side of the aisle. In West Virginia, Obama was pulling just 62 percent of the vote while Keith Russell Judd, an inmate at a federal prison in Texas who somehow got his name on the primary ballot, was drawing 38 percent.