John McCain's Institute Launches Today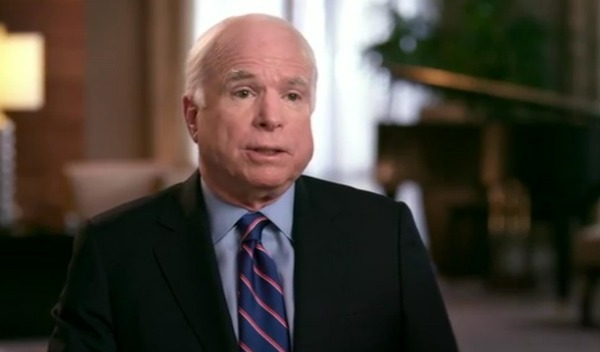 Despite some of my foreign policy differences -- like the whole bomb, bomb, bomb, bomb bomb Iran thing -- with Senator John McCain who once told me he was "the original neoconservative", I have always greatly, truly admired his patriotism and dedication to trying to get the American political system to operate honestly and in a way consistent with what the framers of the Constitution intended.  He has been a major voice in the country on campaign and elections reform, on fiscal matters, on national security, on immigration, and on leadership in every sense.
His body of work actually deserves a library to house it -- but our system doesn't give those who come in second place for the Presidency a National Archives run operation.  Instead, McCain and a bipartisan group of supporters -- including Senators Kelly Ayotte, Sheldon Whitehouse, Lindsey Graham, Mark Udall, Joe Lieberman, Carl Levin as well as CIA Director David Petraeus, and others --- are punctuating the start of a new university-based institute committed to the leadership principles John McCain exhibited and encouraged, particularly in young people.
Under the leadership of former US Ambassador to NATO Kurt Volker who will serve as Executive Director and with a $9 million gift from the McCain institute Foundation (which itself received $9 million in donations from the McCain-Palin campaign surplus), Arizona State University is announcing today the establishment of the McCain Institute for International Leadership.
The McCain Institute press announcement specifies four key pillars of work:
•    Provide decision recommendations for leaders through open debate and rigorous analysis, by convening experts, publishing policy-relevant research, and holding decision-making training events using cutting-edge technology.
•    Identify and train new national security leaders, both American and foreign, in public service and private enterprise, as well as military spheres.
•    Play a unique role in a crowded intellectual space by serving as Washington's preeminent "decision tank."
•    Promote and preserve the McCain family spirit of character-driven leadership and national service, including hosting the McCain family archives.

Here is the press release (pdf) announcing establishment of the new McCain Institute -- and here a 6-minute video of several of the Senators above as well as Cindy McCain and ASU President Michael Crow sharing why America needs another policy think tank.
A couple of quick thoughts.  First, John McCain is not a cookie cutter conservative and believes in the kind of rough-and-tumble politics where political actors and branches of government responsibly and vigorously compete and knock into each other. This is not the view of most ideologues -- and is an approach to politics that I think is often misunderstood and should be more greatly valued.
After a decision is reached and law is established, McCain believes that the law needs to be upheld.  As a recent example, John McCain opposed the ending of Don't Ask Don't Tell but sent important signals that he would respect and support the law once it was enacted -- and he has done that and impressed me and others with his position.
In my view, McCain has been a vital, rare point of conscience on trying to reverse the corrupt cesspool of advocacy politics today in America.
I disagree with him on how he wants to throw the Pentagon at so many of America's international problems today -- with little regard for the overall stock of American power and with out working harder to discern what are America's core strategic challenges that are generationally-defining and other conflicts that may draw a moral impulse from us but which may need different tools and approaches.
In this promo video clip, it is interesting to note the decent amount of coverage given to Cindy McCain's work in Africa.  In one of the photo clips, she is shown with Ben Affleck. I'm glad to see Cindy McCain's efforts as part of the Institute's first self-narrative.
There are more than 1,500 think tanks in Washington -- most of them small one-person boutiques but many that are either homes for governments in exile or others that engage in serious policy work but are well-taught to pull their punches and avoid risk.
I'm glad the McCain Institute will be based outside of Washington -- and will also be run by Kurt Volker, a brilliant and steady national security hand who is well-liked and well-respected not just by Republicans, Dems, and Independents -- but by a range of foreign policy types from neocons to liberal internationalists to realists.  Kurt Volker is absolutely the right person to give the McCain Institute instant credibility and gravitas.
We look forward to seeing what the Institute's first contributions will be.