If Obama Loses in 2012, What Will He Do Next?
Perhaps he'll run again in 2016. Or become head of the International Olympic Committee. Or just obsessively work out.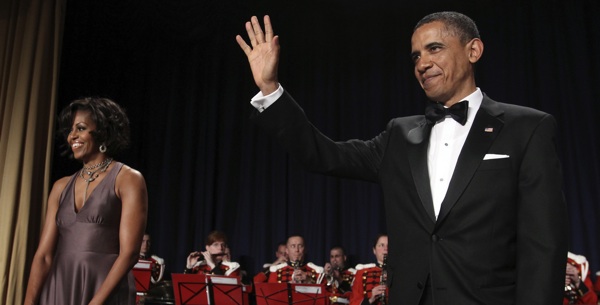 Reuters
Mickey Kaus has a fun speculative theory:

If Barack Obama loses the 2012 election, do you think he's going to quit elective politics, serve on a series of corporate and foundation boards, write a best-selling children's book on being a Dad and a Lugaresque memoir describing how Fox News and Peter Orszag betrayed him? I don't. I think he's going to run again, Grover Cleveland style. That casts possible additional (distant) light on today's endorsement of same-sex marriage: It may or may not help Obama in 2012. But it would much more reliably likely help him in 2016, when public opinion can be expected to have shifted further in favor of this social innovation. It would certainly help him in the Democratic primaries.

To be sure: I'm not suggesting Obama would do anything that hurts his chances this year, or that he thinks he's going to lose. I'm saying he's a relatively young man and smart enough to take long-range contingencies into account.
Were he to undertake an "Obama in 2016" strategy, it would certainly make for an interesting lame-duck period at the end of his first term. But I can't help but think that, whether or not Obama runs in 2016, he's definitely going to cash in somehow in the years immediately following his tenure.

I'm curious as to how readers perceive him. What's your best guess as to his life post-presidency? A blockbuster memoir deal? Presidency of a university other than Notre Dame? Serve as head of the NCAA? A term as secretary general of the U.N.? Get unexpectedly arrested by the International Criminal Court while vacationing in St. Tropez with Michelle, Jay-Z, and Beyonce? Angle for a Supreme Court seat? Do the Davos thing with Bill Clinton? Sign onto The Daily Show in a throwback Ed McMahon-like role? Blow lots of dough while hanging out with Charles Barkley and Michael Jordan?

I find it curiously difficult to image what he'll do as a past president.