How One Mother's Story Helped Change Obama's Gay Marriage Stance
After her son Matthew was brutally murdered, Judy Shepard's relentless campaigning on behalf of tolerance led to a major shift in American law.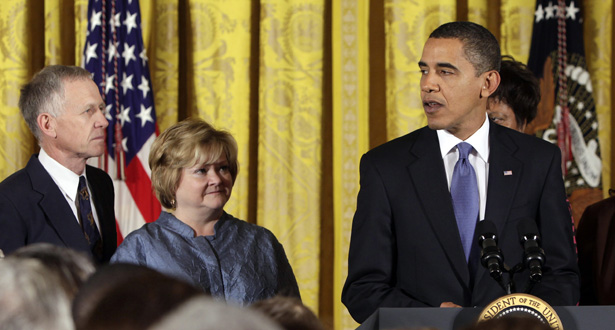 In 2009, the president delivered remarks commemorating the enactment of the Matthew Shepard and James Byrd Jr. Hate Crimes Prevention Act with Shepard's parents onstage. (Reuters)
Byron Tau at Politico posted an interesting piece yesterday about how President Obama's views on gay rights evolved after "meeting people like Judy Shepard," mother of Matthew Shepard, the young gay man who was brutally murdered in Laramie, Wyoming, in October 1998 in a case that drew international attention. Looking to buttress his recent announcement supporting same-sex marriage, the president mentioned Shepard in a campaign video. The president said:
Meeting people like Judy Shepard, and not only hearing the heartbreaking tragedy of Matthew but also the strength and determination she brought to make sure that never happens to young people anywhere in the country again ... those stories made me passionate about the issue.
The president and the remarkable woman met in 2009, just as the Matthew Shepard and James Byrd Jr. Hate Crimes Prevention Act was becoming law. That federal statute came about largely because Shepard and her husband, Dennis, relentlessly promoted its passage, year after year, often in the face of scornful Republican opposition. The legislation was first introduced in 2001. It died in the 107th, 108th, 109th, and 110th Congresses before finally passing through a Democrat-controlled House and Senate.
What President George W. Bush had consistently refused to do on gay rights Obama quickly did. So it's natural and unsurprising that the president today would specifically mention Judy Shepard. She has been a tireless tribune for tolerance -- a worthy symbol of what America has done well since 1998 to combat anti-gay prejudice and violence. Her story, that of a grieving parent trying to bring some good to something so bad, is a universal one; heartbreaking and ennobling at the same time.
But I was just as interested in the impact the president's remarks had upon Judy Shepard as I was in the impact Shepard has had upon the president. What does it feel like when a president declares publicly that he's been moved by your story? What goes through your mind when you realize that your family's tragedy has helped change American law and policy? On Wednesday, I asked those questions of Shepard, who founded and still runs the important Matthew Shepard Foundation. She replied via email:
I am humbled and grateful that something good has come from losing Matt. But it wasn't this one incident or just our story that changed things. It was many people and other unfortunate incidents. If it was Matt's story that resonated, I'm gratified something came from it. In my thoughts and prayers, I thank President Obama everyday for his compassion and empathy for all Americans.
She explained:
I think the basic notion of 'telling your story' to educate the public at large helped the president come to his understanding of what 'love' is. Hearing the stories of LBGT friends and colleagues in regard to the inequities facing them in their everyday lives has had an impact on the president's views. The more anyone knows about the situations facing the LBGT community the more they understand about the inequality and legal discrimination and the more they want to help set things right. Matthew's story opened the eyes of folks in both the gay and straight world in regard to the violence and hatred facing members of the LGBT community.
I also asked her what she believes has changed (and what has not) since her son was savagely attacked, tied to a fence, and left to die on a cold, windswept prairie. She responded: "The changes are both subtle and obvious. The polls show a much broader acceptance of the gay community, but I see it every day as I travel around the country. The way we talk about the issues facing the LGBT community is much kinder and more understanding of perception and language..."
Judy and Dennis Shepard told Matthew's tragic story. Over and over again. To anyone and to everyone who would listen. Until someone, until the president, did. This is how social change occurs. This is how hearts and minds are changed. This is how the law "evolves." And this is why the gay and lesbian community, and everyone else who supports it and opposes hatred and ignorance and prejudice of the sort that murdered Matthew, has cause to believe that the worst is over. The proof is right there on the campaign video for all the world to see: From bad things good things one day come.