How a Dedicated Group of Tea Party Activists Toppled Richard Lugar
Learning from the movement's stumbles in 2010, a grassroots collection laid the groundwork to defeat the six-term Indiana senator.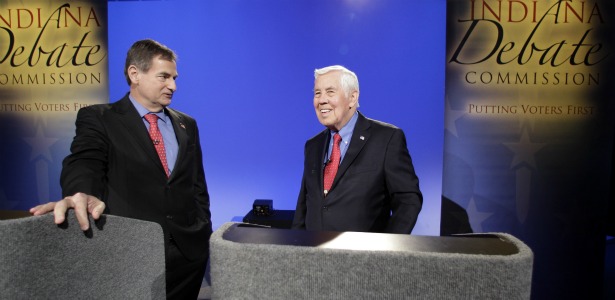 The Tea Party, an unsteady movement that was beginning to resemble a wayward ship in 2012, found its north star in Indiana on Tuesday night.
State Treasurer Richard Mourdock defeated six-term Sen. Richard Lugar in the Republican primary, a victory owing to the incumbent's inept campaign, the outside groups that lashed him on the air, and a story about his out-of-state residency that would not go away. But well before those issues got a foothold, a grassroots-driven, local movement to unseat Lugar was well under way.
Sixteen months ago, a collection of Tea Party organizers met in the city of Tipton. Their goal was to address flaws in the movement that were exposed in 2010, when infighting and competing agendas largely driven by national groups and consultants hindered its ability to make lasting gains. What resulted was "Hoosiers for a Conservative Senate," a network of 60 Tea Party groups dedicated to retiring Lugar.
"We didn't have the unity [in 2010]. Once we built the foundation of unity, we went out and educated people about Lugar's voting record," said Monica Boyer, one of the group's cofounders.
The group endorsed Mourdock after a September straw poll showed that he was the preferred choice of conservative activists. National groups like the Tea Party Express that in 2010 were responsible for the rise of Christine O'Donnell in Delaware and Joe Miller in Alaska had yet to enter fray in a major way. The national group FreedomWorks had met with Boyer's organization, but it didn't jump in with full force until Mourdock emerged as the consensus candidate.
"None of the outside groups were in here at that time," Boyer said. "We actually asked FreedomWorks to get involved."
"It was at that point that we knew, OK, this is real, they've made a decision, and they came to us; and they said, 'OK, we're ready, we want some support now,' " said FreedomWorks Vice President Russ Walker.
After it was clear that no other Republicans were going to get into the race, the influential antitax Club for Growth decided to endorse Mourdock and spent huge sums of cash on ads blasting Lugar. Around the same time, the Lugar campaign's ineffective response to stories about his residency began to receive more attention from voters. Mourdock's fundraising began to ramp up. The resulting concoction was toxic for Lugar.
Mourdock's competence as a candidate helped his cause. He hasn't yet committed the kind of gaffes we saw from O'Donnell, Sharron Angle, or Miller in 2010. Notably, he doesn't refer to himself as a Tea Party candidate, either. But that doesn't bother activists. "I don't want him to be painted in a corner," Boyer said. "I think that's what happened in the other states" like Nevada, where Angle ran.
Democrats are already moving to paint Mourdock into a very familiar corner. Anticipating a win on Tuesday afternoon, the Democratic Senatorial Campaign Committee compared Mourdock to Ken Buck, the failed 2010 Senate nominee in Colorado.
While Mourdock has kept the Tea Party within arm's reach, Lugar thumbed his nose at the movement entirely.
"I've got to say, 'Get real,'" Lugar told a local Indiana TV station in 2011. "I hear Tea Party or other people talking about they were against START. I say, 'Well, now, hang on here.'"
Boyer said she met with Lugar for breakfast in 2010, but he wasn't receptive to her message.
"We told him of our grievances and he said to us, 'I vote this way because I feel it is best for Indiana,'" she said. "He just kept saying that over and over 'I know what is best.'"
Lugar's approach to the Right clashed dramatically with the strategies adopted by two of his colleagues who also faced conservative primary threats.
Sen. Orrin Hatch, R-Utah, faced a wave of tea party ire at the start of the cycle. After witnessing his colleague Robert Bennett fall victim to conservative challenger Mike Lee in 2010, Hatch extended an olive branch to the Right early and often, holding meetings with them and even hiring some organizers as paid staffers. He is now a heavy favorite over his Republican primary opponent.
Lugar's reluctance to go after Mourdock early in the contest went against the grain of another colleague's strategy. In 2010, when Sen. John McCain of Arizona ran against former Rep. J.D. Hayworth in the Republican primary, he quickly pivoted rightward. The onetime proponent of comprehensive immigration reform suddenly became a hard-liner who famously urged the government to "complete the danged fence" in one of 2010's most memorable TV ads.
National Republican Senatorial Campaign Committee Chairman John Cornyn told reporters on Tuesday afternoon that all candidates must focus on "being prepared" and "making sure your constituents know who you are and know you are fighting the good fight." Although Cornyn did not comment directly on Lugar's campaign, his comments amounted to an implicit argument that a Lugar loss should be attributed to campaign missteps and the climate in the state. GOP campaign strategists privately advanced that view.
"After 2010 we knew that there were challenges for any incumbents running for reelection, and we saw some who handled that better than others in 2010 and 2012," Cornyn said. "So I think everybody knew it was coming."
It's not just incumbents who should take notice. Conservatives recruited a credible Senate contender in Texas in Ted Cruz, who stands a real chance of forcing a surprise GOP primary runoff in the open race against Lt. Gov. David Dewhurst. The open-seat race in Nebraska appears to be tightening, with Don Stenberg and Deb Fischer hoping to chase down front-running state Attorney General Jon Bruning. Even in Utah, where Hatch is in good shape, Dan Liljenquist has a fighting chance.
But most of these candidates owe much of their rise to national conservative groups. If the tea party is to have a lasting influence over Republican politics, it should look to Indiana as an example: Recruit a credible candidate and build a consensus before the army of national groups arrives.
"We have not gone away," Boyer added. "We are working behind the scenes, infiltrating the party."
Dan Friedman contributed