George W. Bush and Barack Obama Clown Around at Portrait Unveiling
Jokes between two old adversaries at a White House ceremony underline the emerging similarities between the 43rd and 44th presidents.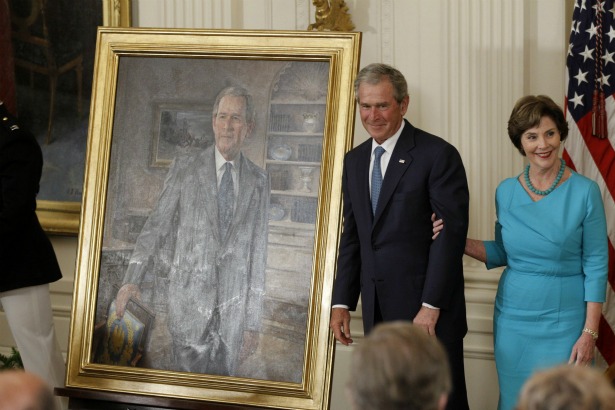 Associated Press
For a little while this afternoon, one could almost forget how bitterly Barack Obama attacked George W. Bush four years ago. With the economy collapsing and his approval ratings in the basement, the sitting president was an easy target.
That was all ancient history when Bush and his wife Laura came to the White House for the unveiling of their official portraits. (You can see a better picture of the strangely smirky, somewhat underwhelming painting here, along with the Laura Bush one here.) Obama praised Bush's leadership after the 9/11 attacks and in pushing through TARP. "No matter how hard you try, you're not going to make everybody happy. I think that's something President Bush and I both learned pretty quickly," the president joked, adding that he continued to enjoy the sports TV package his predecessor ordered. Bush was a regular comedian, thanking Michelle Obama for "inviting our rowdy friends to my hanging," then quipping to Obama, "Mr. President, as you gaze at this portrait, you can ask yourself, 'What would George do?'"
It was a good gag given their partisan differences. But Obama's remark underscores how the distance between them has narrowed over his first term. It's not just Obama's willingness to adopt Bush-era policies once disdained by the left. As Obama heads into a tough reelection campaign, his team has been said to be studying and appropriating tactics used by Bush's 2004 campaign. Maybe Bush's remark wasn't as far off base as he might have imagined it: "What would George do" could very well become something of a refrain.