Elizabeth Warren Can Lead—but Can She Campaign?
The brouhaha over her Cherokee ancestry raises questions about whether the national political star can survive the rough-and-tumble of a Massachusetts race.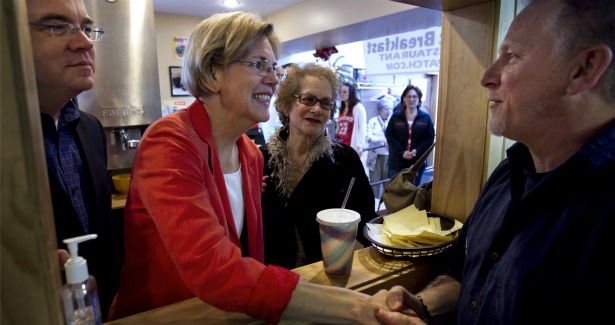 On October 21, 2009, Massachusetts Attorney General Martha Coakley, the Democratic frontrunner in the state's 2010 special election to replace the late Sen. Ted Kennedy, ducked into a home in a leafy, affluent neighborhood and greeted a horde of influential liberal movers and shakers at a $1,000 per plate fundraiser. Coakley was polling 26 points ahead of her likely Republican challenger, State Senator Scott Brown, and already there were whispers in the crowd about how impressive she was, with people wondering aloud if she could be running for president in 2016. Coakley's campaign to replace a Kennedy immediately took on the tenor of a national election effort squeezed into a state race. The fundraiser, fittingly, didn't even take place in Boston; it was near Georgetown, in Washington, D.C.
What happened over the next few months -- from calling former Red Sox pitcher Curt Schilling a Yankee fan to dissing the time-honored tradition of shaking hands outside Fenway Park -- is history, but often forgotten is the fact that when she began her bid for the U.S. Senate, Coakley was considered a superbly strong candidate. She was hyper-competent on issues that mattered, had the unfettered support of the state Democratic Party establishment and was in ideological lockstep with Massachusetts' left-leaning electorate. Oh -- and she'd won her A.G. chair in 2006 in a landslide, with 73 percent of the vote.
Sound familiar? Enter consumer protection champion Elizabeth Warren. Warren's political acuity was supposed to be as bulletproof as her biography: incredibly smart Harvard Law professor sees malfeasance in the credit card business, envisions an agency from the ground up, pushes it through a fiercely divided Congress and then is put in charge of overseeing its creation. Her story is one of good old-fashioned political gumption -- she can say she knows how to build something.
And yet, Warren's victory in the upcoming election against the incumbent Brown is far from assured. She's oscillated up and down in the polls, and last week she confronted her first full-blown political firestorm in the form of bizarre story about her distant Native American heritage> -- and whether or not she used her lineage for professional gain.
Putting the veracity of the accusations aside for a moment (we'll take her at her word that her claims to Cherokee ancestry are real and that she never leveraged her heritage inappropriately -- if either proves untrue, it will be a major scandal given the forcefulness of her statements), Warren's difficulty in handling such a peculiar yet potentially powerful kerfuffle bespeaks a real problem for her senate bid. For all of the skills she brings to her candidacy, is being a campaigner one of them?
Let's first consider the actual sequence of events that lead to the controversy. Initially, Warren said she claimed her minority status "because I thought I might be invited to meetings where I might meet more people who had grown up like I had grown up." Then she doubled-down in the most convoluted possible way on Thursday, saying:
I still have a picture on my mantel at home, and it's a picture of my mother's dad, a picture of my grandfather. And my Aunt Bea has walked by that picture at least a 1,000 times remarked that he -- her father, my Papaw -- had high cheek bones like all of the Indians do. Because that is how she saw it and your mother got those same great cheek-bones and I didn't. She thought this was the bad deal she had gotten in life.
So what, huh? If we're getting technical, the Cherokee Nation sets its boundaries liberally and would allow someone who is 1/128th Cherokee to enroll (by contrast, Warren claims a 1/32nd connection), but the fact that we are even discussing such specifics signals a communications victory for the Brown campaign.
Warren's botched response has brought questions about her political skills to the surface. A lengthy article in the Boston Globe this weekend detailed how Boston's mayor Thomas Menino has been reticent about offering his endorsement to Warren, and even hinted at the possibility he could support Brown. While Menino has been notoriously coy in the past with endorsements, the longer he waits, the more Warren languishes without support from one of the key corners of the Massachusetts establishment.
Moreover, while a recent Boston Globe poll showed the two candidates in a near dead-heat, on the issue of likeability, Brown stomped Warren 57 percent to 23 percent. How major was that gap? Even a plurality of Democrats found Brown more likeable than Warren, 42 percent to 38 percent, respectively.
By contrast, Brown's political dexterity is hard to deny. A scandal of similar magnitude around his 1982 semi-nude photo spread in Cosmopolitan magazine could have upended his candidacy. But when asked about the story, he merely quipped to Barbara Walters, "I wish I still looked like that" -- effectively quelling it. His easy response bore the hallmarks of someone who has spent most of his professional career (modeling stints aside) in the political spotlight.
Unlike Brown -- and unlike even Coakley -- Warren had, up until last year, zero in the way of experience as a candidate for public office. Her senate bid -- one of the highest profile elections of this cycle -- is her first foray into electoral politics as a candidate. That's a tall order for anyone, even the fastest learners. On a national level, Warren's outsider status may seem refreshing, but in Massachusetts, Warren has proved less adept at the day-to-day, hand-shaking, baby-kissing, politicking that's made her opponent such a star.
To be sure, Warren brings a bevy of alluring qualities to her candidacy. She backed up her consumer protection bona fides early with a series of progressive diatribes, including her "Nobody got rich in this country on his own" riff, which is now common currency for liberals. And she has proved herself an adept fundraiser, raking in heaps of money (she raised $6.9 million in the first quarter of 2012), and outperforming Brown in each of the last two quarters.
But the 2010 election showed that while the eye of the nation may often focus on the Massachusetts political scene, the winning formula there often comes down to highly local factors. Coakley seemed to have all the right ingredients, but incorporating those into a coherent political strategy proved more challenging. When the Cherokee story inevitably runs its course, approximately 3,000 news-cycles from now, Warren will be left to confront the gulf that exists between her impressive resume and her experience as a campaigner.
By the time Coakley realized the problem it was too late.