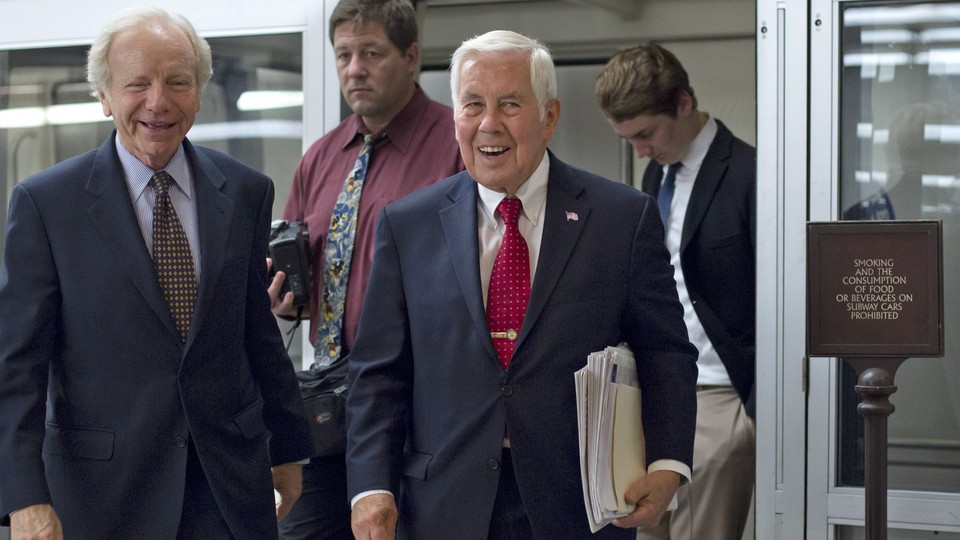 Sen. Richard Lugar, R-Ind., might not have lost his bid for reelection had he followed the example of a fellow Hoosier and adopted what could be called "the Hamilton Rule." During his 34 years in Congress, Lee Hamilton earned deep respect for his command of foreign policy and his service on the House Foreign Affairs Committee. But even when the Democrat was chairman of the panel and a TV fixture commenting on the latest international crisis, Hamilton made a point of never talking about foreign policy when he was back home in Indiana unless a constituent asked him something on the topic.
Hamilton understood what Lugar never quite grasped: being an expert on foreign policy gets you plaudits in world capitals and respect in Washington, but it is a killer with voters. The numbers are pretty stark. Dan Friedman took note last week in National Journal of the decline in influence of the Senate Foreign Relations Committee, on which Lugar served for 36 years, suggesting that the Republican "may prove to be one of the last senators to make foreign policy the focus of a Senate career." But the political realities of committee membership are even worse than the declining influence of the committee. That influence was at its highest after World War II, when then-Chairman Arthur Vandenberg, R-Mich., declared that "politics stops at the water's edge" and worked with Harry Truman to create the United Nations, NATO, and the Marshall Plan.
In between Vandenberg and Sen. John Kerry, D-Mass., today, 12 chairmen headed the committee. A stunning seven of those have been defeated or forced out of the Senate: Republicans Lugar, Charles Percy, Jacob Javits, and Alexander Wiley; and Democrats Frank Church, J. William Fulbright, and Walter George. Three lost primaries, three lost in general elections, and one (George) retired when it became clear he could not win renomination by Georgia Democrats. No other Senate committee has anything close to this casualty rate.
"The history is pretty clear what happens to people on that committee," said former Sen. Dick Clark, the Iowa Democrat who was denied a second term in 1978 after Republican Roger Jepsen mocked him as "the senator from Africa" for his work as chairman of the subcommittee for African Affairs. Now 83, Clark told National Journal Daily that more and more senators don't want voters to know they are traveling overseas, and fewer and fewer are willing to do the hard work needed to master complex international issues. "This is what Dick Lugar did. He knew every important world leader. They knew him and respected him."¦ He traveled. There is no other way to become an expert. But it is risky political business."
Which brings us back to the Hamilton Rule.
"I would never give a speech on foreign policy in my state unless requested to do so," Hamilton, now director of the Center on Congress at Indiana University, told NJD this week. "I'd talk about all kinds of things, but not foreign policy."¦ I made quite an effort to downplay it." He said voters are skeptical of members of Congress who pay too much attention to foreign affairs. "They see that as a presidential power."
But that's where Lugar's defeat signals something bigger than the loss of a senior statesman. More importantly, it is part of a shift of power from Congress to the White House. "Members are no longer learning about the complexity of foreign policy," Clark said. "The result is that administrations — Republican and Democratic — just take over more and more and more of the foreign policy of the country."¦ There is very little check on the White House."
Hamilton lamented what he called "a dominant trend in American government over the past several decades, which has been the flow of power away from the legislative to the executive branch." He said it is essential that Congress make sure the president is not hearing advice only from his own aides. "Every one of those advisers are dependent on him for their job. That decreases sharply their independence," he said. In contrast, members of Congress are independent. "And that measure of independence is very important in giving the president advice that he may not get from his close advisers."
Hamilton recalled many meetings in the Oval Office listening to various presidential advisers. "There always is a deference to the president. Sometimes it is fawning; sometimes it is almost sycophantic." But, with obvious pride, he said members of Congress would then weigh in with opposing advice and a willingness to "speak their own mind" to power. With the departure of Lugar, there is one less knowledgeable voice to be raised in those meetings and much more doubt that future members will be willing to put in the time — and risk the political repercussions at home — to challenge future presidents.