Chart of the Day: Where Does Corruption Live in America?
Visualizing where the levels of crooks in government are highest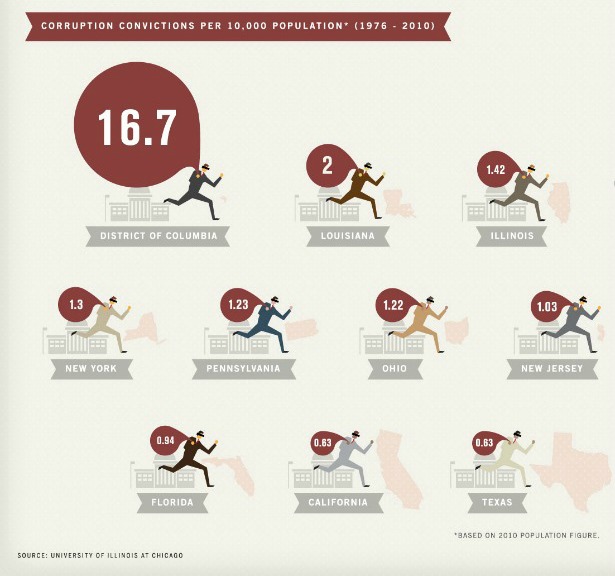 Good / Column Five
Corruption is hot these days. A verdict in the John Edwards case is expected imminently. A top aide to D.C Mayor Vince Gray faces jail time for obstructing justice, while a former Washington City Council member was just sentenced to three years in prison for stealing from youth programs. Ohio Senate candidate Josh Mandel has returned $150,000 in donations after reports that they may have come from questionable practices. And in a boon to crooks across the Land of Lincoln, Patrick Fitzgerald, U.S. attorney in Illinois and scourge of the corrupt, announced on Wednesday he's stepping down.
Of course, it's not as if corruption ever went out of style. This infographic from Good and Column Five does a great job of visualizing the worst states for corruption since 1976. There aren't many surprises: commensurate with the examples above, D.C. tops the list, and Illinois and Ohio make appearances too. What's amazing is just how much more corrupt the nation's capital is than any other jurisdiction -- even famously, laughably crooked Louisiana -- when measured per capita. To be sure, it's not a totally fair metric: There's simply more government per capita in Washington than anywhere else.
Check out a larger version of this infographic, with some additional info, over at Good.