California's Family Feuds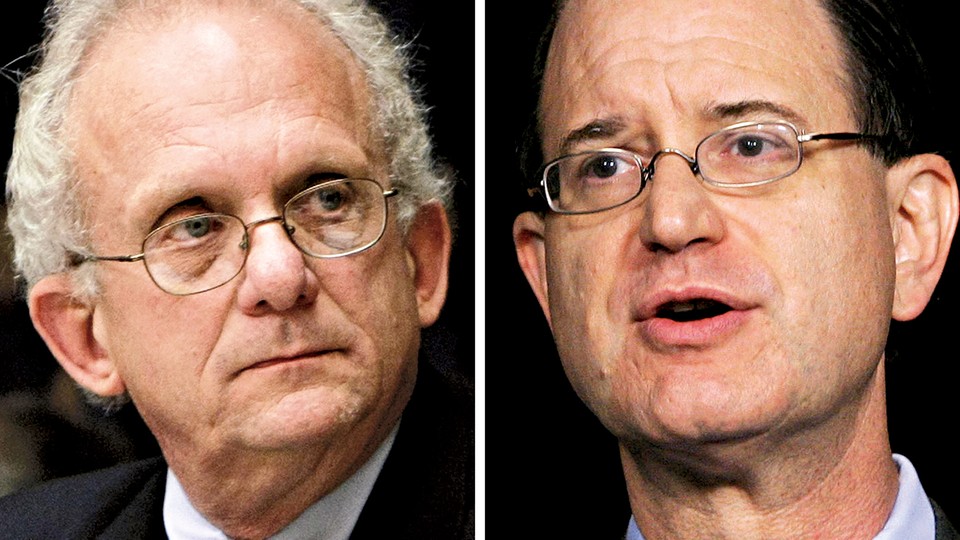 By next Tuesday, Reps. Brad Sherman and Howard Berman, two longtime California Democrats, will have slung more than $5.5 million in political mud at one another — all for the right to likely do it all over again this fall.
Primaries aren't what they used to be in California. New election rules allow, for the first time, the two top finishers in a congressional primary to advance to the general election, regardless of party. That means that Berman and Sherman, who were drawn into the same district this year, are expected to continue to direct their hefty war chests, which still total nearly $4 million, against each other all the way to Nov. 6.
There is little doubt that a Democrat will eventually win the district. But the prolonged contest will suck up millions of Democratic dollars and the efforts of thousands of party foot soldiers who could have otherwise been deployed to unseat Republicans. And it's not an isolated problem. As many as half a dozen costly and combative contests between two Democrats could extend beyond the June 5 California primaries until the fall. The lengthy intra-party squabbles threaten to be an enormous distraction and drain for a Democratic Party that desperately needs to pick up multiple seats in the state to have any chance of securing the 25 needed nationally to take control of the House.
"It's not helpful," said Rep. Steve Israel, the head of the Democratic Congressional Campaign Committee, speaking about the Berman-Sherman showdown in an interview earlier this year. "I'd rather they be spending that money to elect, to help us win 25 seats than to defend one."
It's not just about the money, either. When it comes to party volunteers, it's a zero-sum game: Every Democratic activist campaigning against a fellow Democrat this fall is one fewer wooing voters to dislodge a Republican.
"The Democratic Party, labor, environmentalists, LBGT groups, consumer attorneys — all of these groups on the left with ... money, and volunteers, and bodies are going to be wasting precious resources in these very, very liberal districts to decide between two Democrats," said Paul Mitchell, a Democratic strategist in the state.
Both parties agree that California, with its 53 congressional districts , is the epicenter of the battle for the House in 2012. An independent commission redrew the state's political boundaries this year and threw into upheaval what had been the most stable delegation in Congress. (Democrats currently hold a 34-19 advantage.) There are now up to a dozen battleground districts, and Democrats and Republicans alike are arming themselves with California-specific super PAC funds.
In theory, the new election rules should apply equally to Democrats and Republicans. But in practice, it is possible that only one race, or none, will feature two Republicans this fall, compared with up to six such races for the Democrats. The reason, Mitchell explained, is that blue California "has many, many ultra-liberal districts and very few ultra-conservative districts." In other words, even most red parts of the state have enough Democratic voters to advance a Democrat to the general election.
In Compton, no Republican will even be on the ballot. Instead, Democratic Reps. Janice Hahn and Laura Richardson will face off in June and again in November. It's a similar story in the liberal Bay Area district held by 20-term Rep. Pete Stark, who faces a serious challenge from a Democratic city council member who is expected to advance to the fall over an independent candidate. No Republican is on the ballot there either.
In the so-called Inland Empire, Democratic Rep. Joe Baca will probably have to square off twice against state Sen. Gloria Negrete McLeod, another Democrat. As a six-term incumbent, Baca begins the race with the advantage, but Negrete McLeod has beaten a Baca before, knocking off the lawmaker's son, Joe Baca Jr., in a rout to win her current seat.
The long battles between incumbents will cost the DCCC a hefty chunk of member dues. Berman and Sherman had combined to give the party committee nearly $1 million during the 2008 and 2010 cycles. This year, they're not expected to contribute anything.
The top-two primary format also means that Democrats could miss out on having a nominee in at least one Democratic-leaning district. In an Obama-friendly open Southern California district, independent candidate Linda Parks threatens to snare second place in the primary, leaving Democrats without a candidate in the general election. To stop Parks, Democratic-aligned groups have already spent more than $760,000 to boost Democrat Julia Brownley — money that in years past could have gone toward beating up the Republican nominee.
More headaches loom elsewhere. Two Democrats could advance in a district based in the liberal stronghold of Marin; and near San Diego, two Democrats are seeking to succeed retiring Rep. Bob Filner in another contest that may not be resolved in June (three Republicans look likely to divide the GOP vote there).
It's hardly all bad news for Democrats in California, however. The state is fertile ground for up to a half-dozen pickups, as a wave of GOP retirements and redrawn maps, especially in Southern California, sweeten areas that had long been gerrymandered out of Democratic contention.
Eric Bauman, chairman of the Los Angeles County Democratic Party, worries about the "huge drain of money," but he takes comfort from the GOP's disarray in the deep-blue state. "The good news," he said, "is, California Republicans are about as disorganized as humanly possible."