Boxer Plans Hearing on NRC Commissioner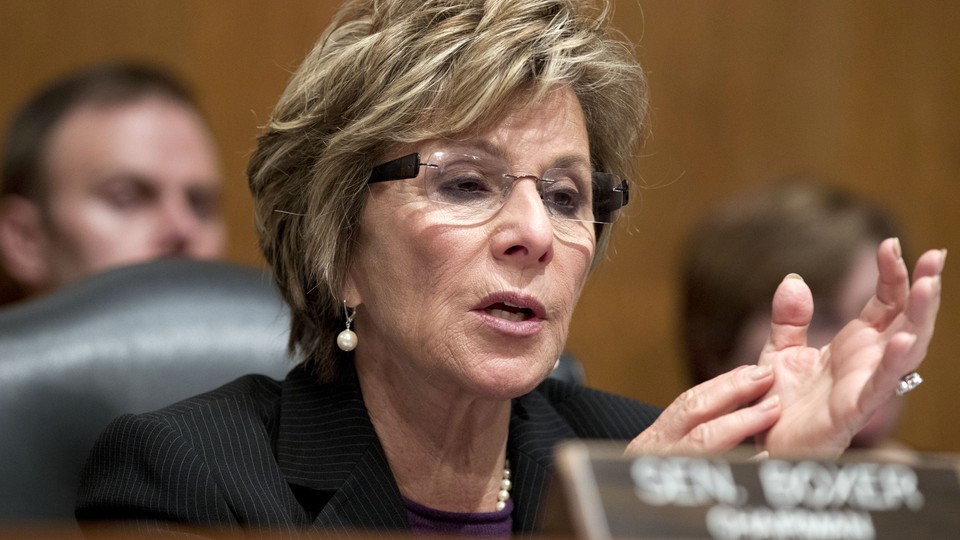 Senate Environment and Public Works Committee Chairwoman Barbara Boxer, D-Calif., said on Thursday that she plans to hold a confirmation hearing for Republican Kristine Svinicki — renominated by President Obama this week for a new term on the Nuclear Regulatory Commission — before Svinicki's current term expires June 30.
Boxer, who has expressed reservations about whether Svinicki should continue at the NRC, told National Journal that a hearing is necessary because "I have some questions about her record."
Boxer said she hasn't set a date for the hearing yet, since she currently has her hands full with bicameral negotiations over the transportation bill, but that it will "definitely" take place before Svinicki's term expires.
Svinicki's nomination has been the source of political squabbling on Capitol Hill since it became known last month that Senate Majority Leader Harry Reid, D-Nev., was urging the White House not to renominate her. But with the White House sending over her paperwork earlier this week, Svinicki's fate is now in the hands of Boxer, whose committee oversees NRC nominations.
Reid and Boxer have said they oppose Svinicki's reappointment on the grounds that she misled Congress in a 2007 hearing about her work on the now-defunct nuclear-waste repository at Yucca Mountain in Nevada, which Reid has vehemently opposed. But neither Boxer nor Reid have said they would take their allegations any further. Both lawmakers have also questioned Svinicki's safety record as a commissioner, but have not provided specific details about those concerns.
After the White House announcement on Tuesday that the president planned to reappoint Svinicki, Senate Minority Leader Mitch McConnell, R-Ky., and other Senate Republicans immediately issued calls for Svinicki's swift confirmation before her current term ends. Republicans and the White House have all expressed concerns about the five-member commission that oversees the nation's 104 nuclear power plants having to operate with only four members.
Environment and Public Works ranking member James Inhofe, R-Okla., along with all the other Republicans on the committee, reminded Boxer in a letter on Tuesday that the panel waived the right to hold a hearing on the confirmation of Gregory Jaczko as NRC chairman in 2007.
"Jaczko was able to proceed directly to his confirmation vote without a hearing, so that is another possibility now that time is of the essence. I hope we can come to an agreement that assures urgent action on this matter," Inhofe said in a statement on Tuesday, noting that if Svinicki is to have a hearing, it "would have to be before the Memorial Day recess to get it done in time."
Meanwhile, Senate Republicans have charged that Reid is against Svinicki for political reasons — she was one of the commissioners who last year clashed with Jaczko, a former aide to Reid. Svinicki and the three other commissioners (two Democrats and one Republican all appointed by Obama) complained to the administration and subsequently Congress about Jaczko's leadership style and accused him of verbally abusing female employees at the NRC. Jaczko has flatly denied the allegations.
Still, Boxer faces a tough crowd if she opposes Svinicki's confirmation. Even one top Democrat on her committee — Sen. Thomas Carper of Delaware — has vocally supported Svinicki, and an organization of women in the nuclear industry, including many in Boxer's home state of California, have expressed their support for Svinicki's return to the NRC.
In a Wednesday letter to Obama obtained by National Journal, the Diablo Canyon Power Plant Women in Nuclear Organization said that they hope Svinicki will be renominated, noting that as the only female member of the NRC, she is an "inspiration for other women in the nuclear industry." The Diablo Canyon nuclear power plant is located in San Luis Obispo, Calif.