At Campaign Fundraisers, Obama's Tech Staffers Are the Stars
The president's digital campaign team is the main attraction at recent fundraisers, enticing tech-focused donors with an inside peek into the reelection operation.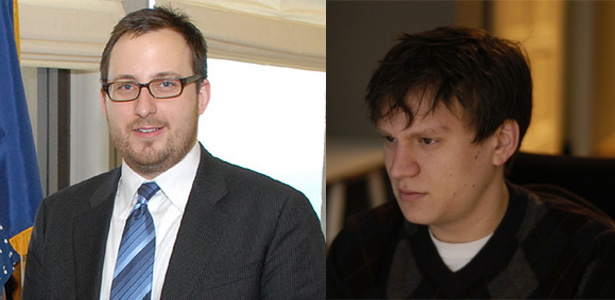 Left, Joe Rospars, Obama's chief digital strategist. Right, Teddy Goff, Obama for America's digital director / US State Department / Blue State Digital
Tonight, geeks in Brooklyn will take part in what can now fairly be called a mini-trend in political fundraising: the Obama campaign enlisting its technology staffers to serve as the draw at low-to-mid-dollar events, offering would-be donors not only a chance to rub elbows with those at the forefront of political technology but also a glimpse at what the campaign has in the works when it comes to the Internet, mobile, and more in its competition against Mitt Romney.
Tapping campaign aides to headline fundraisers isn't a technique invented by the Obama campaign. But the organization is using its tech staffers more, and reaching more deeply into its bench, than has been past practice. As the general election nears, these "tech fundraisers" are one more return on the considerable investment in technology and technologists that the Obama campaign has been making since its own start-up phase in 2007.
Hosted at the sparely gorgeous bookstore and event space PowerHouse Arena in Dumbo, the fundraiser is billed as "The Obama Campaign's Digital Strategy: An Inside Perspective." Featured are Teddy Goff, Obama for America's digital director, and Joe Rospars, the campaign's chief digital strategist and architect of the 2008 campaign's online operation. Tickets start at $75 a person with access to a cash bar; $1,500 gets you a pre-event reception, rights to an open bar, and your name on the event invitation. For those who closely follow presidential politics, Rospars' name is reasonably well-known, if Goff's slightly less so, and both serve in roles that the Obama operation has famously treated as part of the campaign's senior management. But the Obama campaign has also, in recent months, included in the fundraising mix aides serving in jobs that traditionally had lower public profiles, if any profile at all, like chief technology officer Harper Reed and Catherine Bracy, the lead on Obama's San Francisco field office, which is geared towards volunteers with coding, design, and other technology skills.
Figures like campaign manager Jim Messina, chief campaign strategist David Axelrod, and senior White House adviser David Plouffe occasionally serve as hosts for campaign fundraisers. But for some people, getting a chance to hear from, say, Goff about the next generation of the campaign's organizing platform or from Reed on the work being done to optimize the campaign's database architecture might be an even bigger draw.
That's likely especially true in the country's technology hot spots, and that's where the Obama's band of technologists has thus far been deployed. In early March in Austin, the campaign held a $500-a-head fundraiser at Six Lounge during the technology segment of SXSW. Goff and Reed were joined by both deputy campaign manager Stephanie Cutter and former U.S. CTO Aneesh Chopra, according to the Sunlight Foundation's Political Party Time project, which collects and posts campaign event invitations. In mid-February Goff and Rospars hosted an event at Hudson Terrace in Manhattan's Hell's Kitchen neighborhood. Thrown in conjunction with Gen44, the campaign's young people's project, tickets there started at 44 bucks and went up to $1,000, at which point the purchaser became an official co-chair of the event. In late January, Goff, Reed, and Bracy hosted a fundraiser at San Francisco's Founders Den, a SoMa working space and private club. Thirty dollars got donors into a panel reception, and $500 gave them access to a "small roundtable discussion" starting an hour and a half earlier.
(The Obama campaign wasn't interested in commenting on this sort of thing. While Sunlight's Political Party Time doesn't capture the entire universe of campaign-fundraiser invitations, a search for digital staffers from the Romney campaign doesn't return results.)
Even more than your average chance to financially support the candidate of your choice, there's something for everyone involved to love about these tech world funders. For the geeks, who love nothing better than process, there's a bit of fundraising psychology at work: A chance to get the real "inside perspective" on the Obama campaign's operations is an appealing prospect, as is the chance to participate in a roundtable discussion that might address not only tech practice, but technology and information policy. And there are other elbows worth rubbing in the room.
The 60 or so co-chairs of the Obama campaign's Technology for Obama national committee includes such tech industry business leaders like LinkedIn's Reid Hoffman, Salesforce's Marc Benioff, and eBay's John Donahoe. Moreover, that list includes about a dozen venture capitalists who have shown themselves willing to dedicate considerable sums to promising technologies. In fact, that sort of company might prove to be a perk for entrepreneurial campaign staffers themselves. The Obama tech group has already served as something of a start-up incubator, and many of the VC-funded political tech companies people are paying attention to at the moment -- like NationalField, Electionear, and Amicus -- intersected with Obama's 2008 run in one way or another. The Obama campaign's gathering of tech staffers, funders, advisers, and volunteers is shaping up to form one of the more active corners of the technology world, with relationships that don't need to end come election day.
It would be crediting the upstart circa-2007 Obama operation with an implausible amount of foresight to think that they jumped onto the Internet with historic vigor so that they might tap their tech team's fundraising potential in 2012. But, for them, the fact that it's playing out that way is a happy accident of the networked world. Tapping Wall Street for dollars is proving challenging this time around, with Obama's policies and rhetoric weighing him down in the financial world. In the tech world, however, he's enjoying nearly a mirror-image reputation, what with his administration coming against the much-disliked SOPA and PIPA online copyright bills and his recent aggressive opposition to a big cybersecurity bill just as Silicon Valley and others in the tech world were starting to fully sour on it. Both Democrats and Republicans have been making pilgrimages to Silicon Valley of late, but that sort of attention has been proving particularly fruitful for Obama. According to OpenSecrets, Obama has raised $2.4 million from sources in the computer and Internet industries, against Romney's $800,000. Some of that has come through splashy fundraisers, like Facebook COO Sheryl Sandberg's September event where people paid as much as $35,800 per couple to hang out with the president himself. Sandberg even had an actual rockstar -- Lady Gaga -- to offer donors. In Brooklyn tonight, Goff and Rospars will have to do. For plenty of people, they'll do better.
Alas, this evening's tech fundraiser is, says the campaign, closed to the press. That said, PowerHouse does have glass walls.