As Gingrich Exits, GOP Unity Still Elusive for Romney
Romney has sewn up the Republican nomination, but he still isn't fully embraced by his former rivals -- or the conservative base.
Romney has sewn up the Republican nomination, but he still isn't fully embraced by his former rivals -- or the conservative base.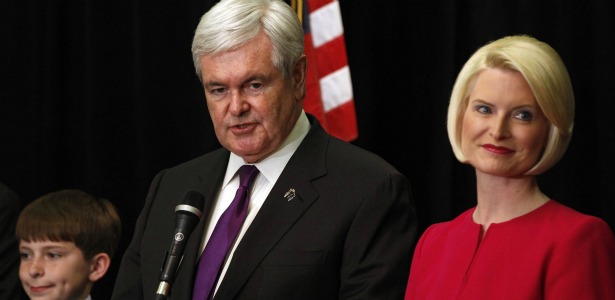 Reuters
ARLINGTON, Va. -- Newt Gingrich had been speaking for nearly 17 minutes Wednesday by the time he got around to talking about Mitt Romney. In addition to announcing the long-anticipated suspension of his presidential campaign, the former House speaker had mused about the New Hampshire state budget, the Chilean welfare system, Captain John Smith's view of the work ethic, the promise of regenerative medicine and, naturally, the vital importance of a colony on the moon.
At last, the subject of the man who bested him for the Republican nomination had to be confronted.
"As for the presidency," Gingrich said, surveying the stuffy Hilton ballroom filled with journalists and loyalists, "I'm asked sometimes, 'Is Mitt Romney conservative?' And my answer is simple: Compared to Barack Obama?"
From Gingrich and the conservative base he so ably channels, this may be the best Romney can hope for: the acknowledgment that he is preferable to the alternative.
"Now, this is not a choice between Mitt Romney and Ronald Reagan," Gingrich continued. "This is a choice between Mitt Romney and the most radical, leftist president in American history."
Even as Gingrich spoke, Romney was just a few miles away -- 13 stops on the Orange Line of the Washington Metro -- taking meetings at the Republican National Committee and basking in the long-awaited embrace of the official GOP establishment. The presumptive nominee was in the midst of a two-day campaign swing through Gingrich's home state of Virginia. Yet there were no plans for the two to meet, according to both campaigns. And before long, Gingrich's indulgent, 22-minute speech had moved on to such subjects as George Washington, holograms, and the Kaiser. (Romney, for his part, responded to the backhanded compliment with a press release attesting that Gingrich had "brought creativity and intellectual vitality to American political life" and "demonstrated both eloquence and fearlessness in advancing conservative ideas.")
As Romney segues into the general-election campaign, the primary remains very much with him. His rivals have almost all dropped out (Ron Paul remains quietly in contention), but they have made no show of unity; if anything, Gingrich and Rick Santorum have gestured in the opposite direction, signaling their continued reluctance -- and that of the many Republican voters who supported them -- to embrace Romney fully. (Another former rival, Rep. Michele Bachmann, also has yet to endorse Romney, choosing instead to tie herself in knots in various television interviews avoiding the magic words of formal support.)
This week's controversy over the departure from the Romney campaign of an openly gay foreign-policy spokesman was, in a way, an illustration of the challenge Romney faces with the right. Part of the reason social conservatives raised objections to the hire of Richard Grenell may have been that they saw it as proof of what they already suspected: that Romney is squishy on the issues they care about.
Eventually, Romney's former rivals are likely to come around. Santorum and Romney are meeting in Pennsylvania on Friday, and Gingrich plans to formally endorse Romney in the coming weeks. Bachmann, it was announced late Wednesday, will endorse Romney at campaign stop Thursday in Virginia.
But how enthusiastically will the Republican base follow them? At Romney's Wednesday morning campaign event in Chantilly, a suburban community half an hour's drive west of Washington, I met a man who wasn't so sure.
"Romney has taken some very liberal positions over time. He has to show that his conversion to conservative positions is sincere and long-lasting, and once elected he won't revert back to moderate or liberal positions," said Art Kelly, a 67-year-old from Herndon who wore a black pinstriped three-piece suit.
Kelly spent the primary waffling between Bachmann, Rick Perry, Gingrich and Santorum. In the Virginia primary, for which only Romney and Paul qualified, he spent a long time staring at his ballot in the voting booth, wondering if he should just leave it blank. Finally, he cast a vote for Paul.
"There are days I'm very impressed by Mitt Romney, and others I'm not so sure," Kelly said.
But is this really a problem for Romney, I asked? Surely "compared to Barack Obama" will be enough to rouse Republicans from their homes come November 6. Does Romney need conservatives' love as long as he has their votes?
"There's a difference between the intensity of supporting somebody and working your guts out or showing up on election day and going home," Kelly said. "You need people who are willing to go out and bleed for you."
Say what you will of Gingrich's grandiose, meandering lark of a campaign, for a few brief moments, he lit a spark among the conservative base in a way Romney never managed to do. His following was real, and it was mostly organic (though the super PAC funded largely by Sheldon and Miriam Adelson, whom he thanked in his valediction, played a key role). He stirred their hearts.
But he will not be president, and now Gingrich must decide how forcefully he can bear to summon his talents of inspiration for a man he once called out for "pious baloney." On Wednesday, the signs were not particularly good.
"The presidency matters," Gingrich said airily, as his wife, two daughters, a son-in-law and two young grandchildren looked on stoically. "But so do all the other offices of self-government."