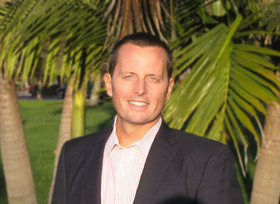 Richard Grenell, recently hired by the Mitt Romney for President campaign to serve as the GOP presidential contender's national security spokesman, has resigned.
His statement:
I have decided to resign from the Romney campaign as the Foreign Policy and National Security Spokesman.

While I welcomed the challenge to confront President Obama's foreign policy failures and weak leadership on the world stage, my ability to speak clearly and forcefully on the issues has been greatly diminished by the hyper-partisan discussion of personal issues that sometimes comes from a presidential campaign.

I want to thank Governor Romney for his belief in me and my abilities and his clear message to me that being openly gay was a non-issue for him and his team.
This is as wrong for the Romney team to do as it was for the Obama team to fire Obama campaign Muslim American outreach director Mazen Asbahi for distant acquaintances from years previous that were stirring up anti-Obama, anti-Islamic agitants in the US. 

Allowing Grenell to resign, and the same is true of Asbahi, just fuels the confidence and status of bigots who undermine big tent, inclusive democracy.
I was just telling Washington Post editor Fred Hiatt this weekend how impressed I was with hyper-conservative Washington Post columnist Jennifer Rubin's statements on Ric Grenell, the GOP, and the party's anti-gay bigotry.  I have almost never agreed with Rubin on her world view but on this, I salute her and think that she was dead on target.