Demographics are destiny. This much, in American politics, is true. But we rarely appreciate the pace of the racial and ethnic change happening throughout the country. To step back and see the broader, long-term picture is to recognize that, while we're an evenly divided country now, we may be close to a tipping point after which the entire landscape will change.
(ANALYSIS: The President's Gay Marriage Leap of Faith by Ronald Brownstein)
If recent electoral and population trends hold, Democrats need only wait a few presidential election cycles until they begin every White House contest as clear, eventually even overwhelming, favorites.
That's the conclusion of a new report from Lincoln Park Strategies, a Democratic consulting firm in Washington. A Democratic firm predicting Democratic wins may not sound like news, but their reasoning has strategists on both sides convinced that unless Republicans start making serious inroads in minority communities, the party is doomed to run from behind.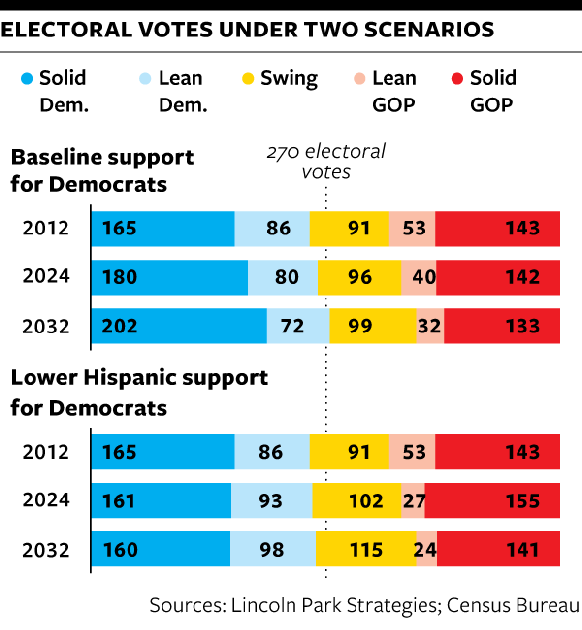 Current Census Bureau estimates say the nation's population will grow by about 61 million people over the next 18 years, to 373 million. That growth will come largely among minorities; the bureau believes the nation's Hispanic population will grow by 63 percent, the number of African-Americans will increase by 27 percent, and the Asian-American population will increase by 55 percent. At the same time, the number of whites in America will rise by only 4 percent. Those numbers point to a much more diverse nation: Today, about 64 percent of the population is white. By 2030, that figure is predicted to shrink to 56 percent.