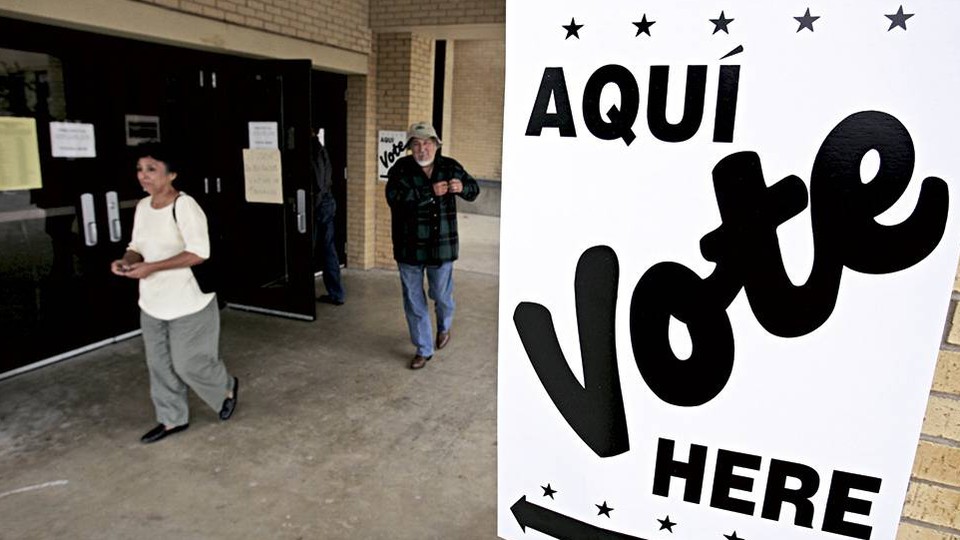 The United States recently passed a milestone. Census Bureau researchers said last week that more than half of American births last year were nonwhite. But translating population growth into political representation is a slow process, as the upcoming House primaries in Texas demonstrate.
From 2000 to 2010, Texas grew faster than all but four states, swelling by almost 4.3 million and more than 20 percent. Just under two-thirds of that growth, which netted the state four new congressional seats, came from the Hispanic population. Yet because of unfavorable redistricting and low voter turnout among Latinos, Texas's delegation in the 113th Congress may include only one more Hispanic House member than the six it has now based on the previous decade's congressional lines.
The reasons why Hispanic representation isn't expected to surge are sometimes peculiar to individual congressional districts. The new 34th District, situated along the Gulf Coast and the Mexican border, will almost certainly elect a Hispanic Democrat, but the area by all rights should have had Hispanic representation anyway — Republican Rep. Blake Farenthold, who is not Hispanic, won one of the flukiest GOP victories of 2010 there in a low-turnout affair against 14-term Democratic Rep. Solomon Ortiz. The new majority-Latino 35th District, stretching from Austin to San Antonio, is the nominal home of a popular, longtime fixture in Texas politics, nine-term Democratic Rep. Lloyd Doggett, who also is not Hispanic.
The 33rd District, in Dallas and Fort Worth, is the only real new minority district in Texas, and it represents Hispanics' best hope to elect one of their own. Nearly two-thirds of the district's population is Hispanic, something former state Rep. Domingo Garcia hopes to leverage in the May 29 Democratic primary. But that advantage is not what it seems: Narrow the district's population to voting-age citizens, and the Hispanic share drops to about 39 percent, according to Census Bureau estimates. Narrow it again to registered voters with Spanish surnames, and it drops again, to 34 percent. Given historic turnout trends, the percentage of Hispanics will likely be even lower than 34 percent when voters go to the polls.
Consider Farenthold's 48 percent to 47 percent win over Ortiz in 2010. The total number of voters that year in the congressional district, which was 73 percent Hispanic, was just a few thousand more than the number of votes that Ortiz himself won in 2008, a presidential-election year.
Those low rates of voter registration and participation explain why Garcia's candidacy is no sure thing despite his district's makeup. State Rep. Marc Veasey, an African-American, is giving Garcia a tough race, and if the demographic situation was reversed, it likely wouldn't be close. "A district that's about 40 percent African-American, you would say that would become an African-American seat," says Texas redistricting expert Michael Li. "African-Americans are more reliable voters in a primary."
The particular way that Texas Republicans drew the state's new congressional districts is another barrier to electing Hispanic members. (Although, whether Hispanic influence is diluted is a larger question.) Doggett's new district includes almost as large a share of Hispanics as the 33rd District does (and an even higher proportion of registered Hispanic voters). But his incumbency is a barrier to Latino up-and-comers, and Doggett's record in Congress has earned him widespread Hispanic support.
"Remember that redistricting doesn't guarantee anything," says Arturo Vargas, the executive director of the National Association of Latino Elected and Appointed Officials. Instead, he says, the goal of redistricting is to give minority communities the opportunity to elect their districts' representative. "I'm the Latino candidate of choice," Doggett says.
When Doggett retires — or if court action spurs alterations to the Texas map mid-decade — the heavily Hispanic Austin-San Antonio corridor will likely go to a Hispanic candidate. Until then, greater influence at the ballot box is not enough by itself to get a new Hispanic member to Congress.
For his part, Garcia sees reasons to expect a faster evolution in the 33rd District. Under Texas's old congressional lines, the Hispanics now in the new district were mostly scattered among five deeply Republican districts where they had little reason to care about House primaries. This year, they have a viable Latino candidate to turn them out, and Garcia's campaign has wooed Hispanic voters who have not previously voted in primaries — or even been asked to. He notes that Hispanic turnout has jumped before when the community has had the opportunity to elect Hispanic leaders, as it did in mayoral contests in San Antonio and Los Angeles over the past decade.
Still, given the unfriendly redistricting scenario in Texas, Hispanics may well have to wait to see the fruit of their demographic boom in the halls of Congress. Burgeoning ranks of young Latino politicians at lower levels mean the bench will be well stocked when seats open up. "One thing to keep in mind is down-ballot at the city council, school board, the state legislative level — Latino candidates there are energizing and turning out Latino voters," Vargas says. "That will percolate up to the congressional level, if not in 2012 then sometime."