3 Big Elections: Indiana, North Carolina, and Wisconsin
A titan of the Senate faces defeat, a gay-marriage ban looks set to pass, and Democrats nominate a candidate for the recall of Scott Walker.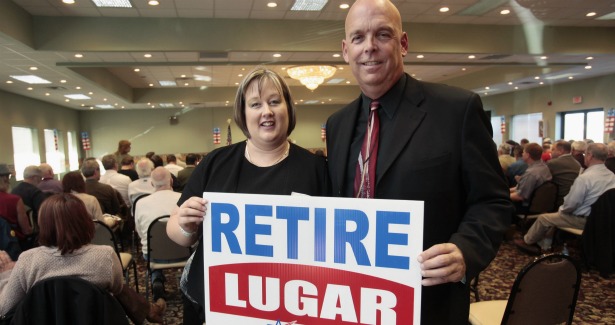 Reuters
The presidential primaries are finally over, but across the country, the real political pre-season is just heating up. On Tuesday, voters go to the polls in Indiana, North Carolina, Wisconsin, and West Virginia, and the votes they cast will have far-reaching implications -- from ousting one of the longest-serving Republicans in the Senate to prohibiting same-sex unions in the last Southern state that hadn't already done so to nominating an opponent in the recall of Wisconsin Gov. Scott Walker. (The Republican presidential candidates will also be on the ballot in Indiana, North Carolina, and West Virginia, but with Mitt Romney officially the presumptive nominee and only Ron Paul still competing against him, the action is elsewhere on the states' primary ballots.)
Here's a briefing on tonight's contests.
1. Does Lugar go down? Indiana Sen. Dick Lugar is a six-term incumbent who has never even faced a primary opponent since his initial election in 1976. He's a political titan in both Indiana and Washington, where he has a reputation as a serious-minded bipartisan -- his work with then-Sen. Barack Obama on nuclear nonproliferation was highlighted in a 2008 Obama presidential campaign ad. Back home, Republicans were none too pleased with that, and state Treasurer Richard Mourdock set out to retire Lugar by making the case that he was insufficiently conservative and out of touch with his constituents -- a criticism embarrassingly underscored a few months ago when a local election board ruled Lugar wasn't a resident for voting purposes. National conservative groups have poured money into anti-Lugar ads, and Lugar's campaign has been slow to respond, with the result that he's now considered almost certain to lose; one recent poll showed him trailing Mourdock by 10 points. What does it mean for the general election? While Democrats believe they have a better shot against the strongly conservative Mourdock than the moderate Lugar, Indiana is still likely an uphill battle for Democrats.
2. Does North Carolina ban gay unions? The state's voters go to the polls to weigh in on a proposed constitutional amendment banning gay marriage and civil unions, and it looks like a lock to pass. A Public Policy Polling survey over the weekend found 55 percent of North Carolina voters favor the amendment while just 39 percent oppose it. Support for the ban appears to be powered in part by divisions between the black and gay communities, and its passage will make North Carolina the last Southern state -- and one of 29 states nationwide -- to put an anti-gay-marriage amendment in the state constitution. The initiative's success is a bracing reminder that, despite overall public opinion trending in favor of same-sex marriage, voters in many states continue to oppose it. At the same time, the measure appears to be poorly understood: Most North Carolina voters support legal civil unions, but less than half in the PPP poll realized that they would be outlawed by the initiative.
3. Democrats prepare to face Walker. Before controversial Wisconsin Governor Scott Walker faces a recall next month, Democrats must nominate a candidate to oppose him. The favorite is Tom Barrett, the mayor of Milwaukee who lost to Walker in the 2010 gubernatorial election. He got in the race late and surged to a lead ahead of Kathleen Falk, the former Dane County (i.e., Madison) executive, who had the support of most unions; the result is that, ironically, in a recall motivated by Walker's sins against organized labor -- specifically, his move last year to restrict collective bargaining by public employees -- the candidate to take on Walker is likely to be one whose relationship with unions has been somewhat leery. Still, the primary has not been particularly contentious, as the Democrats look to focus their energies on the ultimate prize: defeating Walker in the June 5 recall vote. Thanks to strong statewide name recognition and a moderate reputation, Barrett is thought to be the candidate best poised to accomplish that goal.