With GOP Race Settled, Will Republicans Turn Out for Romney?
On Tuesday, five states will hold the first primaries since Rick Santorum dropped out. Don't forget: Newt Gingrich and Ron Paul are still running.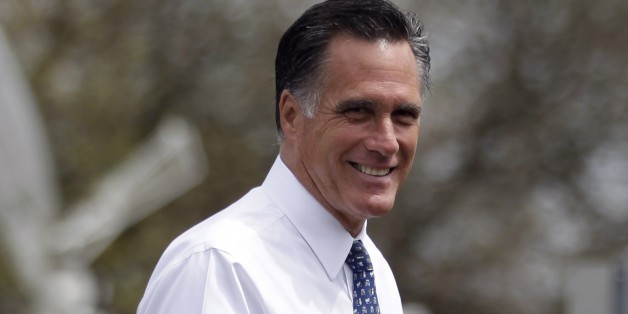 (AP Photo/Jae C. Hong)
What if they held an election and no one came?
That could happen Tuesday, when five states will hold the first presidential primaries since a daunting delegate lead and Rick Santorum's exit from the race made Mitt Romney the presumptive Republican nominee. For voters in Pennsylvania, New York, Delaware, Rhode Island and Connecticut, the put-a-fork-in-it race at the top of the ticket isn't much of a draw.
Except that history shows there's a group of hardcore voters who show up even when the presidential primary has been settled. George Mason University associate professor Michael McDonald, who specializes in turnout, calls them "expressive voters.'' For a candidate like Romney, viewed in some Republican circles as a consolation prize in an election year in which stronger and more conservative politicians took a pass, Tuesday's turnout could help "express'' the enthusiasm gap, if it exists.
"If Romney does still have a problem with Republicans, it might show up in the turnout levels on Tuesday,'' McDonald said. "It will be interesting to see how many people still want to express their support since he became the nominee.''
To be sure, turnout in presidential primaries is not completely fueled by the top of the ticket. Competitive state and local races can also have an impact. McDonald also cautioned that linking turnout to the presumptive presidential nominee doesn't take into account that some voters, albeit a minority, are choosing one of his rivals.
Having said that, turnout in presidential primaries in Pennsylvania, one of the most important battlegrounds in the country, hasn't varied tremendously from year to year. It peaked slightly in the 2008 Republican primary to 26 percent even though John McCain had locked down the nomination more than two months earlier.
In the 2004 Democratic primary, held weeks after John Kerry claimed the nomination, turnout was 21 percent. In 2000, when both Republican George W. Bush and Democrat Al Gore claimed their nominations early in the primary season, turnout in Pennsylvania was 20 percent and 19 percent, respectively.
A five-way Republican primary for the U.S. Senate this year could help drive voters to the polls in Pennsylvania. Still, it's fair to say that turnout much below these recent benchmarks, or much higher, would indicate something about the level of enthusiasm for Romney.
Not surprisingly, both the Obama and Romney campaigns declined to reveal their expectations for Tuesday's turnout and what it might say about the race.
"You can't completely dismiss the presidential primaries at this point,'' McDonald said. "I'm certain Romney is going to be the nominee, but I think his campaign has an incentive to be active on Tuesday. It's sort of a dress rehearsal for the general election.''
A better gauge of the enthusiasm surrounding a candidate, McDonald said, is county-by-county turnout. He studied voting patterns in two other big states that voted in January and February, Florida and Michigan, and found that turnout in counties that favored Romney was down compared to 2008, while turnout was up in counties that favored his rivals. "They're just not that into you, Mitt,'' McDonald wrote after Florida's vote.
In an analysis of the first 13 primaries, the Bipartisan Policy Center and the Center for the Study of the American Electorate pegged Republican turnout at 11.5 percent, compared with 13.2 percent in those same states in 2008 and 12.2 percent in 2000.
In a more recent sign of limited excitement about Romney, only one out of three Republican voters in a CBS/New York Times poll earlier this month said they would "enthusiastically'' support Romney. Forty percent said they back him with reservations and 18 percent said they support him only because he's the nominee.
But voter enthusiasm doesn't necessarily translate into turnout. A vote from someone who's not crazy about Romney counts just as much as a vote from an avid supporter. What's more, hostility toward President Obama may push many Republicans to the polls in November. The most recent CNN/ORC International survey found that more than six in 10 Romney supporters say their choice will mostly be a vote against Obama, while three-quarters of Obama's supporters say they are backing the president, not voting against Romney.
Either way, a vote is a vote is a vote.
Other surveys are showing relatively equal levels of enthusiasm behind Romney and Obama. The Gallup Daily tracking poll last week showed a tight race and found both candidates are backed by 90 percent of the members of their own party. Asked if they will definitely vote in November, 82 percent of the Romney voters and 78 percent of the Obama voters said yes.
Still, Gallup is finding a higher level of intensity surrounding Obama, among both his supporters and opponents, said the poll's editor-in-chief, Frank Newport.
"Democrats are more intense in their positive feelings about Obama than Republicans are about Romney, while Republicans are more intensely negative against Obama,'' Newport said. "Romney is not generating strong emotions the way Obama does, but I think he will start to generate them as the campaign goes on.''
While Tuesday's primaries offer little suspense, that doesn't mean the results won't be picked apart and spun by both sides to their advantage. Fourteen states will follow, with the June 26 vote in Utah bringing the primary season to a close.