Why Would a Student's Question About Fox News Make Gingrich So Testy?
Days after complaining about bias at the network, he reportedly ended an interview with a college newspaper when asked about Roger Ailes.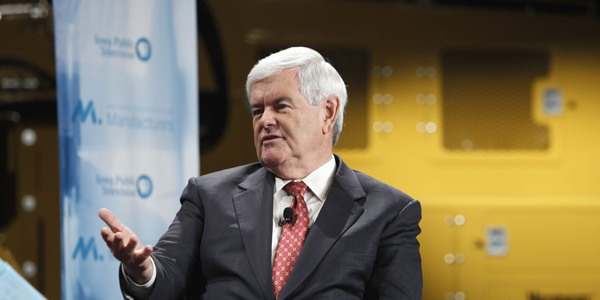 Reuters
It all began when Newt Gingrich
said
that the Fox News Channel, his former employer, was biased in its coverage of the Republican primary, giving more favorable coverage to his rival, Mitt Romney. The head of the network, Roger Ailes,
fired back shortly thereafter
, telling an audience of journalism students at the University of North Carolina that the former House Speaker was "trying to get a job at CNN because he knows he isn't going to get to come back to Fox News."
None of which is funny.
But
this column by college newspaper reporter Memet Walker
, recounting a subsequent interview with Gingrich?
It's very funny.
An excerpt:
At a Tea Party rally in Greensboro Saturday, I had scheduled a private interview with the presidential candidate through his staff. His aide gave no preconditions; no topics were off limits. That's why I was so surprised when, before I had finished asking my first question, that same aide cut the interview short and prompted Secret Service to grab and briefly detain me as the former speaker was led away ... before I even had a chance on Saturday to relay Ailes' comments, his aide pressed his hands against me, and several Secret Service agents stopped me in my tracks.

"You're not asking that. You're done," his aide said. Not "Next question." Just, "You're done." I was surprised that they weren't ready for the question. I was surprised that they were so surprised I might ask it. To be honest, I was nervous that I wouldn't be able to keep up with the speaker in a tough back-and-forth. After all, in the struggle between politicians and members of the media, he's a pro; I'm an amateur. At my other job at a grocery store, my hardest-hitting question is usually, "Paper or plastic?"
As I understand it, Gingrich
prefers
goods he purchases to be packaged in
boxes of robin's egg blue
.