When Will Rick Santorum Endorse Mitt Romney?
Before he gets behind his erstwhile opponent, the former Pennsylvania senator wants respect to be paid -- and needs time to heal.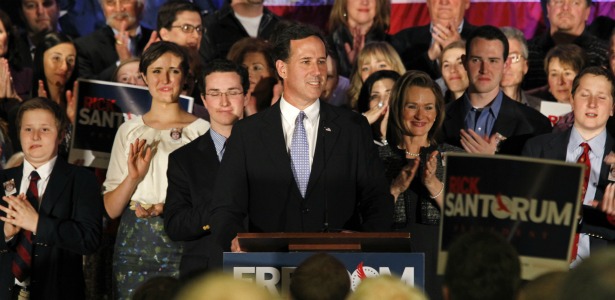 Reuters
Now that Rick Santorum has suspended his presidential campaign, the only remaining suspense surrounding the former Pennsylvania senator involves whether, and when, he'll dutifully fall in line behind Mitt Romney.
The Philadelphia Inquirer's Tom Fitzgerald writes that Santorum is waiting "to be seduced" by Romney:
Why the delay in endorsing? For one thing, Santorum has a campaign debt of at least $900,000, and he is busy reaching out to supporters, through the conference call and email among other things, to donate money to retire the debt. He also apparently is intent on leveraging a role at the Republican National Convention in Tampa, such as influence on the party platform, and respect for conservatives in a Romney administration.
Romney was in Pennsylvania for a couple of days this week, but Santorum laid low. On Monday night, Santorum held a conference call with supporters nearly simultaneous with a Romney speech in Philadelphia, raising some local eyebrows -- was it intentional counter-programming? The next day, Romney visited Bethel, near Santorum's hometown in the western part of the state; Harrisburg, the capital, where he secured the endorsement of the state's governor, Tom Corbett; and Lancaster, where Santorum was originally scheduled to speak at a GOP dinner along with Romney and Newt Gingrich but pulled out of the program. ("Santorum's not here tonight, and if you ask me why, it's because he's embarrassed," a 72-year-old party activist named Carl Sideman opined to me at the event.)
A person close to Santorum told me practical considerations play a role, but there is also some simple healing to be done.
Santorum will come around in the coming weeks, the source said -- "when the hurt feelings disappear."