Rick Perry Doesn't Expect Mitt Romney to Win in 2012
But the Texas governor says he might run for president again in four years.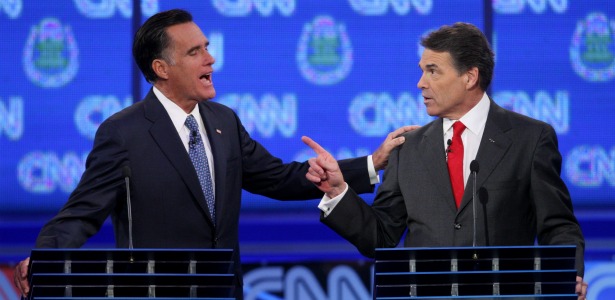 Reuters
Count Texas Governor Rick Perry as skeptical about his party's chances against President Obama. Comments the erstwhile Republican presidential candidate made to a Dallas-Fort Worth TV station Wednesday suggest he expects another GOP primary in four years.
"2016 is way down the road," Perry said, "but I'll assure you one thing. If I decide to run for the presidency in 2016, I'll be in way before the summer of 2016, 2015 even."

[Reporter Jack] Fink: "It sounds like you're really interested?"

Perry: "Yeah, I am. I love this country. As long as my health stays good, as it is, and my family is supportive, I'm certainly going to give it a good examination."
But he did offer a rather tepid vow to back Mitt Romney in the general election: "If Mitt Romney is in fact our nominee, I'm going to be working hard and supporting him." The two men appeared to have a tense relationship during the primary, with Perry bristling in one notable circumstance when Romney placed a hand on his arm.
Of course, that's perhaps the least surprising piece of news out of the interview -- although Romney can't be happy that two of his former competitors seem so bearish on his prospects. (Rick Santorum said last week, "I feel like a young man, and hopefully I feel like a young man four years from now." It's part of a pattern of top Republicans struggling, and mostly failing, to appear enthusiastic about their presumptive nominee.) The bigger surprise is that Perry wants to run. Even when he jumped into the race, he seemed to be reacting more to the thirst for a conservative not-Romney than out of a genuine desire to be commander-in-chief. He had spent years bashing Washington and often appeared to be incapable of talking about much besides Texas, even when stumping out of state. He didn't really have much in the way of a compelling platform or reason for running. And it showed: Voters, though initially ecstatic when he announced his run, quickly cooled as they got to know him. Nor did Perry look like he was having much fun.
On the other hand, he has several years to develop a compelling domestic platform, learn the number and names of the Supreme Court justices, create a mnemonic for departments he'd like to eliminate, widen his perspective outside the Lone Star State, let voters forget his bumbling performance, and recover from the back injury that may have seriously harmed his ability to excel during debates.