Poll of the Day: Obama's Standing With Young Voters Improves
A new survey shows the president leading Mitt Romney by 17 points among voters ages 18 to 29, an increase of six points from November.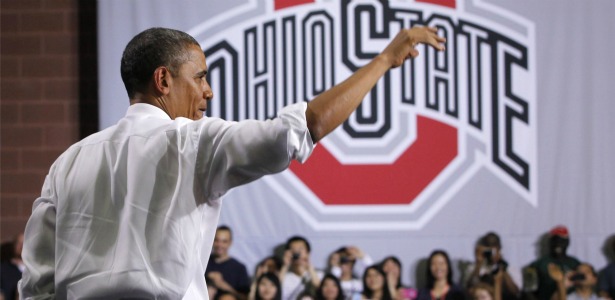 President Obama is appearing tonight on Late Night with Jimmy Fallon in a special taping at the University of North Carolina at Chapel Hill. It's a two-birds-with-one-stone formula intended to appeal to both the Tar Heel State and young voters, two groups he won in 2008 but which are looking less solid this time around.
As he's preparing for taping, there's some good news for him on the youth front:
A new poll from Harvard's Institute of Politics
shows his support remaining strong among young voters, and improving from sagging results in November. The poll shows Obama leading Mitt Romney by 17 points among voters ages 18 to 29 -- a six-point improvement over his standing in late November. Mirroring trends in the broader population, the president does especially well with Hispanics (with a remarkable 39
percent
point lead over Romney), while young white voters remain less sure. Unsurprisingly, young voters say the economy is their top concern, and that's one of the few areas where Obama's approval rating has improved since the fall.
Among the other interesting odds and ends of the poll, Obama does nearly twice as well among 25- to 29-year-old voters as he does with 18- to 24-year-olds. In an age of Congressional deadlock, it may come as no surprise that the percentage of young Americans who trust the UN is higher than those who trust Congress, the federal government, or Wall Street. The poll has a margin of error of +/- 1.7 percent and is based on 3,096 voters interviewed using a Knowledge Networks KnowledgePanel.
The poll presents a striking contrast with a separate survey released last week by the Public Religion Research Institute and Georgetown University's Berkley Center for Religion, Peace and World Affairs of voters ages 18 to 24. In that poll, with had a margin of error 3.3 percent and also used a Knowledge Networks KnowledgePanel, Obama led a generic Republican by just 7 points. On the other hand, The Atlantic Wire's Elspeth Reeve points out that it's unclear how important -- or persuadable -- the youth vote even is.