Picture of the Day: This Is What a Racist Looks Like
Right and left may accuse one another of playing the race card, but there's pure, unalloyed hate involved in the Trayvon Martin case, too.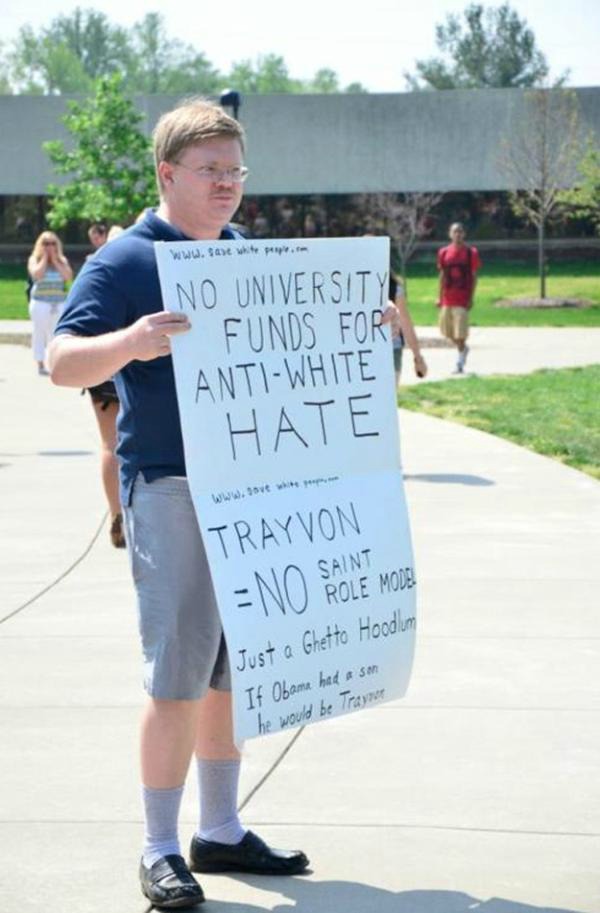 As Conor Friedersdorf pointed out today, some commentators (particularly on the right) are determined that no matter what, the Trayvon Martin case isn't about race, and that too many liberals are eager to make race a central issue where it isn't. But saying that a colorblind society ought to exist is far different from actually making one reality.
This picture is floating around the Internet today (I first saw it on the somewhat NSFW site Yo, Is This Racist?). The man depicted is John King, and if this sign isn't a clear enough demonstration of his views, his website is full of even stronger invective. In addition to some boilerplate at the top, it says Martin was no saint, but instead "just a ghetto hoodlum," then cites President Obama's comments noting that if he had a son he'd look like Trayvon. Newt Gingrich didn't like that: "What the president said, in a sense, is disgraceful," he said on Sean Hannity's radio show. "It's not a question of who that young man looked like." This is a useful reminder of how wrong that is.