Picture of the Day: Obama Sits on the Rosa Parks Bus
During a visit to Detroit, the president quietly examines an icon of the civil rights movement.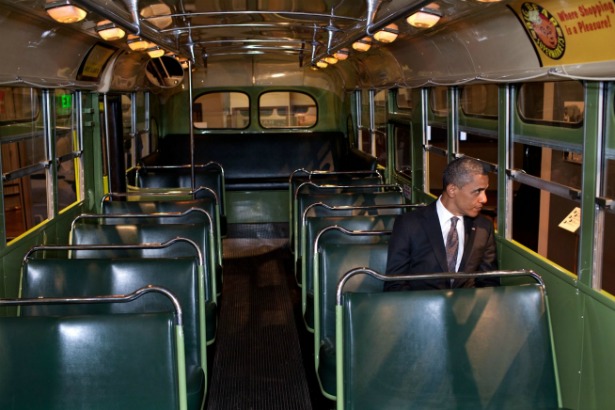 Pete Souza / The White House
Updated, 3:10 p.m.
Day-to-day awareness of the historic achievement that was Barack Obama's election has mostly faded three years into his presidency -- overshadowed by other factors, such as the historically large deficit and the historic recession the nation is still working to climb out of. Occasionally, however, there's a moment that once again situates him, America's first black president, in the long arc of history.
As part of a brief midwestern campaign swing, which included an event in blue-collar Elyria, Ohio, the president spoke at the Henry Ford Museum in Dearborn, Michigan, a Detroit suburb. The museum displays the 1948 GM bus on which, in Montgomery City, Alabama, in December 1955, black seamstress Rosa Parks took a seat near the front and refused to move to the back. The incident prompted a successful boycott of the bus system that was one of the first major battles won by the civil rights movement in the war against Jim Crow laws. Contrary to popular belief, Parks was not just an ordinary woman -- her protest was carefully thought through. But on that day, six years before Obama's birth, surely neither she nor her fellow activists imagined that within six decades, the bus would be a treasured artifact of American history and a black president would be in the White House.
Commenter Bearpaw01 makes a great point: Obama's pose recalls a famous portrait of Parks on the same bus, taken in 1956. Thanks!