Picture of the Day: Obama Hits the Boulder Dive Bars
And another Secret Service scandal erupts: Did a girl spill yogurt on the president, or was she framed?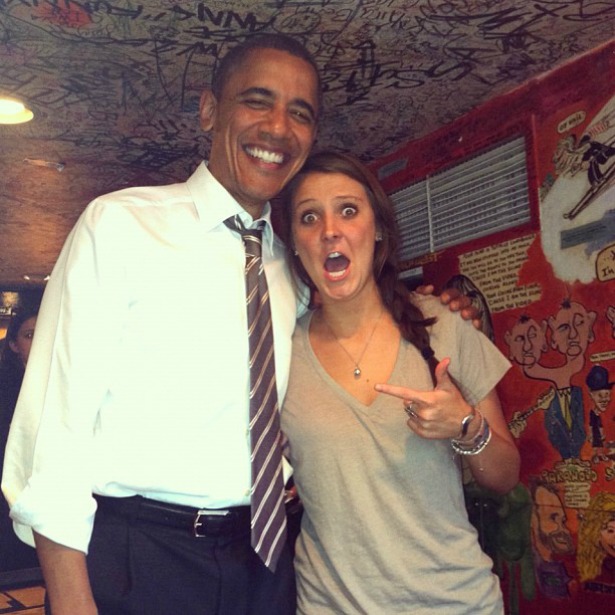 Let's say you're an average CU Boulder undergrad. You're minding your own business, going out for a Tuesday night drink to blow off steam before the worst of the exam season hits you (the last day of classes is May 4). You sidle up to the bar, order a brew, start to sipping, and then turn to see ... this guy. You'd probably react something like Madalyn Starkey, a student at Boulder who tweeted out the picture above with Barack Obama Tuesday evening. Both of them were at the Sink, a venerable institution in town. As great as her facial expression is, this tweet is probably even better. What good is a picture with the POTUS if you can't use it to rib old crushes?
@Bropasz bet you wish you had taken me to prom now, huh? Haha xx

— Madalyn Starkey (@Madloid55) April 25, 2012
Meanwhile, there's another Secret Service scandal brewing. A pool report indicated that a women spilled her yogurt on Obama, and pictures confirmed it: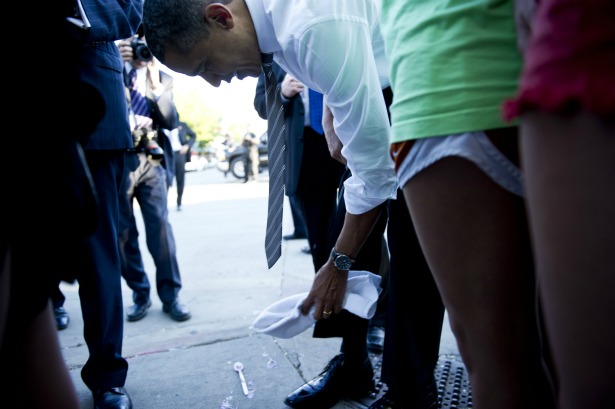 Getty Images
Obama quipped, "Getting yogurt on the president, you've got a story to tell" and "made a wry comment about the Secret Service," per the pool report. But here's the controversy. Via Marin Cogan, she now says that agents asked patrons to set their yogurt on the sidewalk and that a paparazzo knocked it over onto Obama. In this dispute over the facts of simple events, there is surely some metaphor for our fractured national politics. Or maybe a yogurt is just a yogurt.