Picture of the Day: Newt Gingrich Becomes a Meta-Meme
Newt judges a website called Newt Judges You.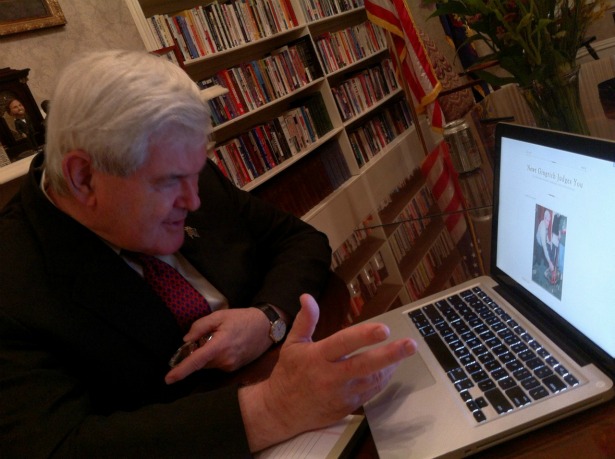 Newt Judges You
Long, long ago -- an astounding three months ago -- Newt Gingrich was a serious contender in the Republican race. His domineering scowl and jowly, professorial lecturing were familiar presences, and since there was a press corps that followed him everywhere, instances were frequently recorded. And in those days, the conservative blogger Ben Domenech created a Tumblr devoted to such images with humorous captions. And he called it "Newt Judges You," in homage to the most common expression on the former Speaker's face. It's hilarious, and you should read the whole thing.
As Gingrich's hopes have faded, the Tumblr has taken on a somewhat more melancholy air. Here's one last marvelous, meta hurrah, though. Somehow, Domenech managed to get a picture of Gingrich himself looking at Newt Judges You. True to form, the Georgian delivered a facial expression capturing his fundamental incredulity and pitying condescension at the silliness of the world.
Frankly, it's a moment of grandiose genius.