Picture of the Day: Game of Thrones, Vol. VI: A Song of Soundbites
Politics ain't bean bag. Unfortunately, it ain't an awesome medieval fantasy, either. But what if it were?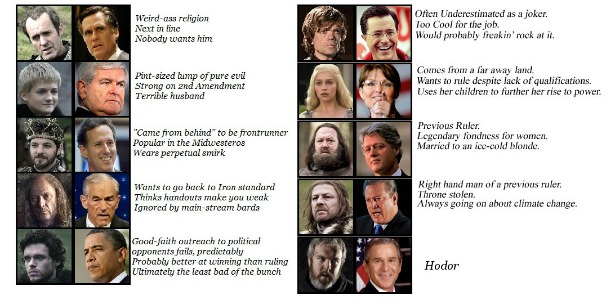 Some Americans prefer watching celebrated HBO television shows with dramatic plots, bodice-ripping action, cartoonish violence, and cool costumes to watching political coverage -- for some inexplicable reason. Anyway, if you've been tuned into Game of Thrones but want to make the transition into paying attention to the presidential election -- the general election has begun, as everyone has pointed out -- here's a handy guide. To understand who the candidates and supporting cast are, just find the Game of Thrones character to whom he or she corresponds. It'll all make sense. Unfortunately, there are no dragons in Campaign 2012, but with any luck there won't be widespread killing, either.
Seriously, though, "popular in the Midwesteros"? Genius.
Here's the original, which we've reconfigured a bit to fit the page.