Picture of the Day: Clowning Around at the GSA Hearings
Demonstrators mock some of the federal agency's more outlandish expenses.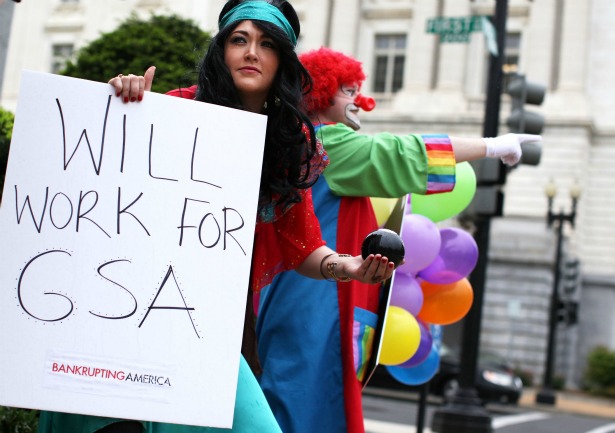 Alex Wong / Getty Images
The one upside of the General Services Administration scandal: colorful protests. Congress is holding hearings this week on the fracas, which involves more than $800,000 in spending on a lavish conference in Las Vegas, and which has already led to the resignation of the agency's director.
One of the many damning details from the story -- in addition to the $1,500 for wine-braised short ribs, $6,325 in commemorative coins, and $7,000 sushi tab -- was that conferees from the government office in charge of cutting down wasteful spending were entertained by a clown and a mindreader. These activists from the group Bankrupting America, dressed as a clairvoyant and a clown, were outside the Dirksen Senate Office Building in Washington, where the Senate Environment and Public Works Committee was meeting on Wednesday.