Obama Looks for Some of the Bill Clinton Magic to Rub Off on Him
Though he once distanced himself from his predecessor, the president now looks for his help in both making his case and raising money.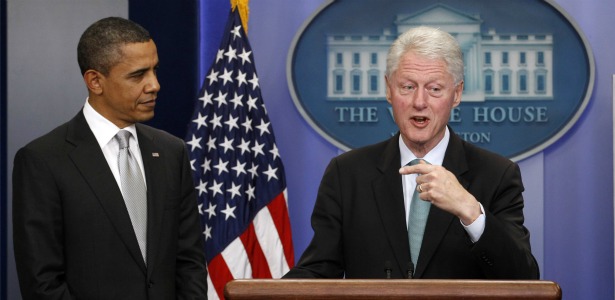 For a president who went out of his way to distance himself from Bill Clinton as a candidate, Obama is depending on his help as he faces a tough re-election campaign. While he may not be embracing the former president's center-right message from the 1996 campaign, he's relying on him for tactical advice, fundraising help and as a surrogate lending him credibility on national security.
Indeed, at Sunday night's tony fundraiser at the home of Clinton macher Terry McAuliffe, Obama said: "I ran for president because we had lost our way since Bill Clinton was done being president." That's a far cry from his criticism of Clinton as a "symbol of small-ball ambition and outdated politics," as the New York Times' Peter Baker put it.
The first sign that Clinton would be playing a bigger role than expected was when the Obama team sought him out to raise money. Despite all the early bluster of a billion-dollar campaign, they needed the help. Obama's fundraising pace is behind what it was in 2008, and his allied super PAC has struggled to bring in big bucks. As president, Clinton was a master fundraiser and his connections should give a jolt to the Obama campaign. He held the first joint fundraiser on Obama's behalf on Sunday, which netted the campaign a cool $2.1 million.
The second boost has been on the tactical side. In recent weeks, word leaked that Clinton had been advising senior Obama strategists to abandon the attacks on Mitt Romney as a flip-flopper and instead portray him as a far-right conservative. So far, his advice has been heeded. Despite predictions that Obama's messaging would try to paint Romney as a candidate without a political core, they have instead portrayed him as insensitive to working-class interests and women's issues.
Clinton's most striking appearance, though, came in the Obama campaign's testimonial over his national-security strengths in making the call to kill Osama bin Laden. There were plenty of officials within the administration to make that case, but the Obama campaign chose to go with the most prominent outsider.
Four years ago, President Obama was flying high and felt unencumbered enough to downplay the former president's accomplishments. Now he's in political trouble, and could use a little of that Clinton magic.