You cannot stem the tide, but directing its flow is always an option. That's the lesson of the modest demographic shifts resulting from the latest round of congressional redistricting. Minority populations, which surged across the nation over the last decade, appear to be more concentrated in fewer House districts under the new maps, a National Journal analysis found.
Previous NJ studies of the "march of diversity" found minority growth to be both deep — especially in fast-growing regions of the country — and broad, affecting most areas nationwide. Since 1980, the number of majority-minority congressional districts has tripled to 106, mostly concentrated in the Sun Belt. But minority populations also swelled beyond those heavily concentrated regions. After the 1990 census and redistricting, 109 House seats had minority populations at or above 30 percent. By 2010, a majority of districts — 222 — had nonwhite populations over that threshold.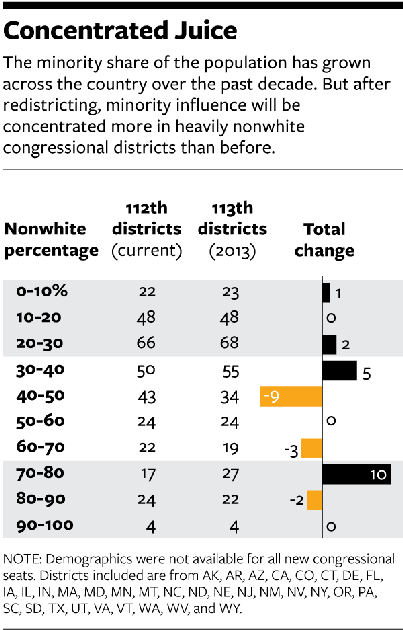 In the 33 states that made new district demographics available, minority influence has been packed into a greater number of more heavily nonwhite districts, and the number of more heavily white House seats has also grown. Before redistricting, 67 districts fell in a diverse middle ground: more than 40 percent nonwhite, but also with sizable white populations of at least that size. Under new congressional lines, however, the middle has thinned. Across those 33 states, five additional House seats are more than 60 percent nonwhite, while the ranks of districts at least 60 percent white has also grown by eight. The middle ground lost nine seats.