Mitt Romney's Gay Spokesman: A Milestone in Republican Politics
The hiring of Richard Grenell by Romney signals a shift in the GOP's openness to gays and gives the party its first out presidential campaign spokesman.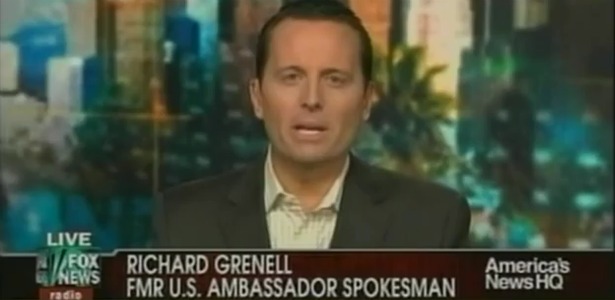 The recent hiring of Richard Grenell, Mitt Romney's openly gay foreign-policy spokesman, represents a breakthrough in the world of Republican presidential campaigns.
Grenell isn't the first out gay person to serve as a high-level staffer to a GOP nominee, but as far as I can tell, he is the first such press spokesman -- the first to serve as the public face of the all-but-certain Republican nominee -- and on the historically sensitive issue of national security, no less. As an openly gay Republican in presidential politics, Grenell joins a small fraternity of out GOP staffers, instantly becoming the highest-profile of the band. His rise signals a remarkable new openness in a party often castigated for its social conservatism; in addition to being out, Grenell has waged some public battles for gay rights that contradict his new boss's own positions.
While Republican presidential campaigns have had staffers who were known to be gay before, these staffers, like the scores of gay GOPers working on Capitol Hill, have generally sought to avoid public notice, or even worked to stay hush-hush in the face of widespread social speculation about any single man of a certain age who is powerful but neither married nor a ladies' man. Many -- like Ken Mehlman, Bush's 2004 campaign manager and from 2005 to 2007 the chairman of the Republican National Committee -- didn't come out until they were safely out of politics. (Mehlman came out in an interview with The Atlantic's Marc Ambinder in 2010, confirming rumors that had been circulating in the city for years.)
Grenell, a former United Nations mission spokesman in the George W. Bush administration, has taken a different route. He has been publicly, outspokenly gay for years. He waged a public battle with the State Department to add his longtime partner to a diplomatic registry in 2008, only to be told it would violate the Defense of Marriage Act. He's also on the record as a supporter of gay marriage, something Romney opposes.
"He's certainly not the first gay person to have worked in a Republican campaign or administration, but they've often kept it quieter," said gay activist and journalist Michelangelo Signorile. "This is somebody who actually has opinions on gay issues, versus somebody who just happens to be gay."
As Grenell told the gay magazine The Advocate of his unsuccessful attempt to get his partner listed in the U.N.'s "Blue Book" of diplomatic personnel and their spouses: "Some people are going to yell at me, because it's been a quiet fight. I think a lot of people's style is to do a quiet fight." Not, by implication, his.
That Grenell's public homosexuality and advocacy on gay issues appear to have been no impediment to his hiring as a high-level campaign staffer seems a clear sign of how times have changed in conservative American politics since Mehlman's day.
There have been known gay staffers in Republican presidential administrations since at least 1991, when Signorile outed Pete Williams, a spokesman for then-Defense Secretary Dick Cheney's Pentagon. But Williams didn't come out voluntarily. And there's a difference between serving in an administration and serving on a campaign, where partisan combat is the name of the game and the support of family-values groups can be critical.
In campaigns, the precedents for Grenell are few if any. The gay Republican presidential campaign staffers of the past largely worked in capacities other than press spokesperson -- a position of unique prominence for the way it puts a staffer's name in the paper and face on television, serving as a representative and stand-in for the candidate. Others worked only for primary campaigns, not the nominee, or weren't as outspoken as Grenell has been.
I was told about a gay top staffer to Bob Dole's 1996 campaign, but a former aide told me the person in question was only rumored to be gay, and never publicly confirmed it. Mary Cheney, Dick Cheney's openly gay daughter, worked on his vice presidential campaign in 2004. Trevor Potter, a campaign-finance lawyer and former FEC chairman who served as John McCain's general counsel in 2008, is openly gay and has served on the board of the Human Rights Campaign; he also held top legal posts in the 1988 campaign of George H.W. Bush and McCain's 2000 campaign. McCain also had a gay chief of staff in his Senate office, Mark Buse, but he seems to be a typical example of that classic Hill phenomenon -- a man who is out to his friends and colleagues, but not the wider world. Revelations that he was gay were treated as an "outing" during the 2008 campaign.
Rick Santorum, during his just-concluded presidential campaign, touted the fact that he had a gay press secretary in his Senate office as a means of rebutting accusations of intolerance. That in itself seems remarkable: The Republican primary's most socially conservative candidate was proud of having had an out gay man on his staff. The staffer, Robert Traynham, has also worked in presidential politics, serving as a communications adviser to George W. Bush in 2004 and failed primary candidate Fred Thompson in 2008.
In the 2012 Republican primaries, former Utah Gov. Jon Huntsman had an openly gay spokesman, Tim Miller, who is now deputy communications director for the Republican National Committee. Texas Gov. Rick Perry employed a gay pollster, Tony Fabrizio, who was out in his personal life, but his orientation wasn't publicly known until it was revealed during the campaign.
On the Democratic side, the first openly gay presidential campaign spokesman is thought to have been Doug Hattaway, spokesman for Al Gore's 2000 campaign. His orientation was known but uncontroversial in the world of Democratic politics, where there had long been an out gay member of Congress. The politics of gay rights are different on the left, of course, but Democrats have also seen gay political staffers gradually become more open as society and the rough-and-tumble world of campaigns have become more accepting. Today, President Obama's campaign has a gay press secretary, Ben LaBolt, and director of surrogate communications, Ellen Qualls, as well as numerous gay non-communications staff, including the finance director, Rufus Gifford.
Romney's hiring of Grenell has stirred more controversy for the staffer's history of catty, sometimes sexist tweets about women political figures than for his being gay. But news that Romney hired an out gay man didn't pass wholly without backlash, even if the objections came from the far fringes of the evangelical right; the most prominent critic, Bryan Fischer of the American Family Association, is someone Romney had already publicly condemned for his intolerant rhetoric on Mormons.
Romney's campaign wouldn't say whether Grenell's sexual orientation was considered prior to his hiring, but implied it was not considered relevant. "We hired Ric Grenell because he was the best qualified person for the job and has extensive experience representing the U.S. Mission to the U.N.," Romney spokeswoman Andrea Saul said in an email. Romney has spoken up during the campaign on behalf of gay dignity, if not the contemporary gay-rights agenda. In a January debate, he said, "If people are looking for someone who will discriminate against gays or will in any way try and suggest that people that have different sexual orientations don't have full rights in this country, they won't find that in me." Saul also passed along a supportive statement from former U.N. Ambassador John Bolton, the neoconservative on whose behalf Grenell developed a reputation as an aggressive, combative advocate.
Mehlman, in coming out, cited the politics of the time -- the Bush administration pursued an aggressive anti-gay-rights agenda -- as well as his own long road to self-acceptance as reasons he waited until stepping away from the helm of the Republican Party. Several gay Republican advocates I spoke to noted that coming out is a personal journey involving factors above and beyond the level of tolerance in the wider society or the political world. But there's no question that the GOP is more open to gay people now than it was just a few years ago. This year, there is even an openly gay Republican candidate running for Congress, Massachusetts' Richard Tisei, who has been endorsed by the Gay & Lesbian Victory Fund.
"We're living in a different time now. Gay people are living their lives openly and honestly like never before," said Jimmy LaSalvia, executive director of the gay Republican group GOProud. "All Americans have gay people in their lives now, and so do all campaigns. This is just another step in the process we've seen in the past 20 to 30 years -- a dramatic change in the way all Americans view gay people, including Republicans."
Some activists cautioned that Romney shouldn't be given too much credit -- he has, after all, taken a stand against gay marriage and in favor of a federal constitutional amendment to ban it. Signorile wondered if the Grenell hire would have more political value to Romney as a signal to tolerant non-gay moderates than to the gay community, which would continue to judge the candidate on his policy stances.
Chuck Wolfe, president and CEO of the Victory Fund, said the more openly gay people are in politics -- from elected office to the staff and appointee level -- the more role models there are, and the more sensitive the internal debate is likely to be.
"The more lesbian, gay, bisexual and transgender people are willing to serve and live their lives openly and honestly, the better off the country is, in my opinion," he said.
Gordon Johndroe worked on the Bush campaign in 2000 and served in the Bush administration for all eight years, ending his tenure as spokesman for the National Security Council. He didn't come out publicly until after he left politics, and now works in the private sector for the consulting firm APCO Worldwide.
In an interview, Johndroe declined to comment on whether the politics of the time influenced his decision to keep his sexual orientation private. But he praised his friend Grenell for blazing a trail.
"I look at it as the ongoing evolution of our entire society, not just the Republican Party," Johndroe said. "But a lot of that is because of people who have been pushing for change. It's been a lot of hard work by a lot of people to help force change. That can't be discounted in any discussion."