Mitt Romney Sweeps Northeastern GOP Primaries
The presumptive nominee gets victories in Pennsylvania and four other states, including Delaware -- a state Newt Gingrich had called a must-win.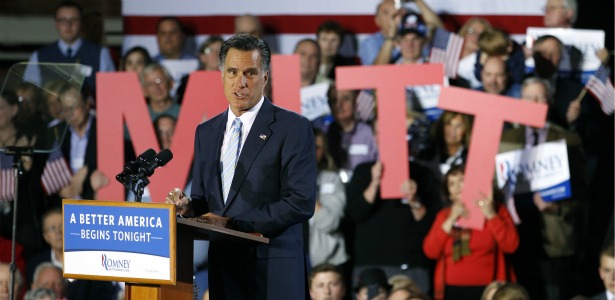 Reuters
Updated 10:05 p.m.
Buoyed by resounding victories in five Northeastern states, Mitt Romney sounded a confident note Tuesday as he prepared to finally be crowned the Republican nominee.
Despite losing badly in Delaware, Newt Gingrich gave no signal he planned to leave the race, removing the only hint of drama from the night. He had previously said he would reassess his campaign if Delaware didn't come through for him. But on Tuesday, he said he wouldn't leave the race any sooner than Sunday, according to NBC's Alex Moe.
Nonetheless, Romney -- taking the stage early to steal the thunder of the forlorn, rambling speech Gingrich was delivering before a garbage-bag-brown backdrop in North Carolina -- all but declared himself the nominee.
"After 43 primaries and caucuses, many long days and more than a few long nights, I can say with confidence and gratitude that you have given me a great honor and solemn responsibility," Romney told a cheering crowd in Manchester, N.H., where he launched his campaign last June.
Romney won by resounding margins in all five states -- Connecticut, Delaware, New York, Pennsylvania and Rhode Island -- taking at least 56 percent of the vote in each. Gingrich's second-place finish in Delaware, 30 points behind Romney, was the closest any other candidate got. At long last, Republican voters appeared to be rallying around Romney's foregone conclusion of a nomination.
In other results Tuesday, Pennsylvania's Republican Senate primary went to Tom Smith, a coal magnate and former Democrat who dumped millions of his own money into the race. He will take on Sen. Bob Casey in November in a race where the Democrat is thought to be heavily favored.
In New Hampshire, Romney's speech struck an optimistic chord as he set out the task ahead for his general-election campaign.
"To all of the thousands of good and decent Americans I've met who want nothing more than a better chance, a fighting chance, to all of you, I have a simple message," he said. "Hold on a little longer. A better America begins tonight."
He promised to spend the coming days meeting Americans personally to learn about their concerns, and telling them "a little about myself," including his family, upbringing and background in the business world.
Of Obama, he said, "because he has failed, he will run a campaign of diversions, distractions, and distortions. That kind of campaign may have worked at another place and in a different time. But not here and not now. It's still about the economy, and we're not stupid" -- a riff on the slogan of the last candidate to unseat an incumbent president, Bill Clinton in 1992: "It's the economy, stupid."
Romney also hit a new theme -- fairness, an idea that tends to resonate with moderates and liberals. But he illustrated it with conservative ideas. "We will stop the unfairness of requiring union workers to contribute to politicians not of their choosing," he said. "We will stop the unfairness of government workers getting better pay and benefits than the taxpayers they serve. And we will stop the unfairness of one generation passing larger and larger debts on to the next."
The Obama campaign shot back with a statement accusing Romney of wanting to return the country to disastrous policies of the past.
"Mitt Romney has spent the past year out on the campaign trail tearing down the President with a negative message that even Republicans who have endorsed him have criticized," Obama spokesman Ben LaBolt said. "This marks the end of that monologue. Now he must put his record and his agenda next to the President's."
It's official: The general election has begun.