Limbaugh's Politics Are Conservative, but His Real Schtick Is Just Bullying
If you think the talk-radio host is just an ideological warrior, you've got him all wrong.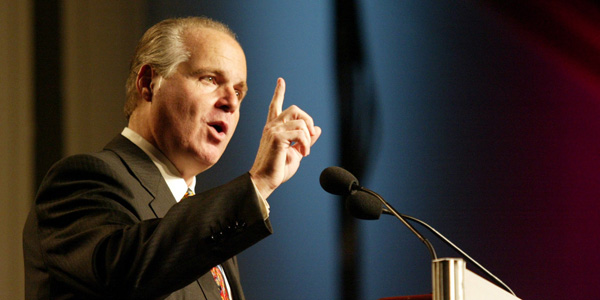 Reuters
Said Rush Limbaugh on Thursday:

Mrs. Clinton worked very hard for her whole life and she stuck by her husband while he -- we all know what he did -- humiliated her, embarrassed her. Affair after affair after affair. And now Hillary has reached the pinnacle. And all she is is a secretary. She's the secretary of defense (chuckles to himself). State! State! Whatever. But still a secretary. I don't know. The left has the strangest definitions of success. No, don't say that. They're still trying to get me to keep talking about Spanx. And I don't know. I know people that might be better served if there were a product called Spankles.

Yes, this is offensive, but that's not the point. What needs saying is that this isn't politically incorrect conservatism. It's just a hater being gratuitous. It doesn't advance an ideological movement.
It's actually just discrediting -- and Limbaugh knows it. He's smart enough to understand that monologues like that earn him a certain kind of attention. The same kind that all shock jocks attract.
If
conservatives weren't so fanatically loyal
to everyone they perceive to be a member of their tribe they'd grasp what's afoot. The man they're always defending isn't a happy warrior for the cause. He's a ratings hound willing to engage in over-the-top misogyny.
How to measure his character? This is a grown man whose jokes land at the expense of women whose ankle size he mocks. If you were a mother and he were your son you'd be embarrassed by his uncouthness. If society operated according to the traditional norms he theoretically espouses, he'd get slapped.
Yet he's considered a conservative champion. If you think conservatism is inescapably sexist perhaps he's a perfect fit for the role. Others think conservatism is a more noble intellectual tradition.
And they should shun Limbaugh.