Is a Federally Sponsored Homoerotic Website Wasteful?
Conservatives are highlighting the project as part of their ongoing small government crusade. Here's why their approach is flawed.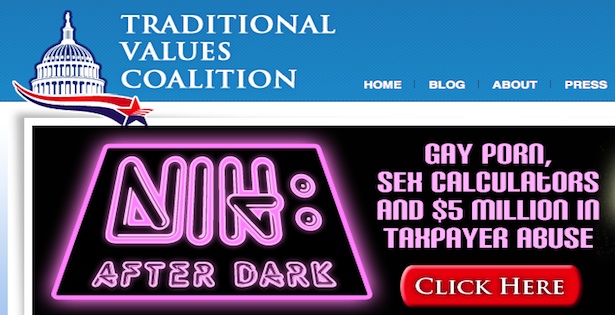 Traditional Values Coaltion
Over at the National Institute of Health, staffers working on HIV and AIDS in America had a problem: research showed that when sexually active gay men read specific material about disease prevention, they'd engage in less risky behavior. But how best to reach and educate the people at highest risk? In an attempt to figure that out, NIH funded researchers at the University of Minnesota, who reached out to gay men on the Internet. Hey guys, they asked, what would it take to get you reading material that educated you about preventing sexually transmitted diseases?
Respondents gave an honest and predictable answer: if you want to attract the eyeballs of gay men who are soliciting sex online, best to package what you want them to read next to images of sexy men. So that's what the researchers did. They created an interactive site, aimed at high-risk gays, that included information on disease prevention, naked men, and silly Internet games.
Enter the Traditional Values Coalition. They've got a petition:
We have no business funding "measurements" of the male anatomy, pornography and other bizarre behavioral research that seeks only to fund, credential, and prop up the loony Left. 

I join the hundreds of thousands of Americans in support of Traditional Values Coalition and their efforts to stop the National Institutes of Health's wasteful, offensive funding of bizarre and ridiculous -- and in some cases, truly horrific -- rewarding of grants that serve no purpose other than to fund liberal projects and oddities America simply cannot afford. 

Their effort is being covered at Fox News.
The National Institutes of Health has spent millions of dollars over the past decade to fund the construction of an HIV-prevention website that, among other sexually explicit features, includes a graphic image of homosexual sex and a Space Invaders-style interactive game that uses a penis-shaped blaster to shoot down gay epithets.
 

The grant money went to a team of researchers at the University of Minnesota that created a site called Sexpulse. The goal was to draw in what are termed MISM -- or "men who use the Internet to seek sex with men" -- in order to educate them and ultimately reduce their risk of contracting HIV. But the site used unorthodox methods to get subjects' attention and keep them interested. The site includes pornographic images of homosexual sex as well as naked and scantily clad men. It includes several risqué interactive features, like the Space Invaders-style arcade game.