False-Equivalence Watch: Nice Work by the Times and Post!
Today a majority of the Senate voted in favor of the "Buffett Rule," but the 51-45 "Yes" vote was not enough to overcome the Republicans' threatened filibuster.
Here is how
the NYT
, to its credit, reported and billed the story: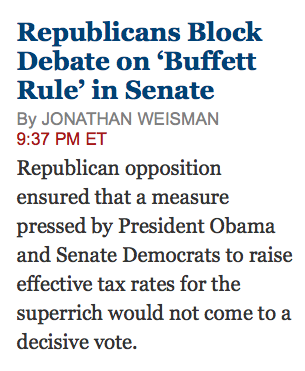 The narrative explained just what was going on, emphasis added:
WASHINGTON -- Senate Republicans on Monday blocked a move to open debate on the so-called Buffett Rule, ensuring that a measure pressed for months by President Obama and Senate Democrats to ensure that the superrich pay a tax rate of at least 30 percent will not come to a decisive vote.

But the fierce debate preceding the 51-45 vote -- the Democrats were nine votes short of the 60 they needed -- set off a week of political wrangling over taxes that both parties insist they are already winning.
A reader writes:
You and I both know that three months ago that would have read "'Buffet Rule' Defeated in Senate" or even (in our fondest dreams, though seldom in actuality) "Senate GOP Defeats 'Buffet Rule".

This seems an improvement.
If you want a reminder of the path the NYT did not take, all you have to do is check out this lamentable Forbes.com report of the same development. The story is fine. But this flatly wrong headline???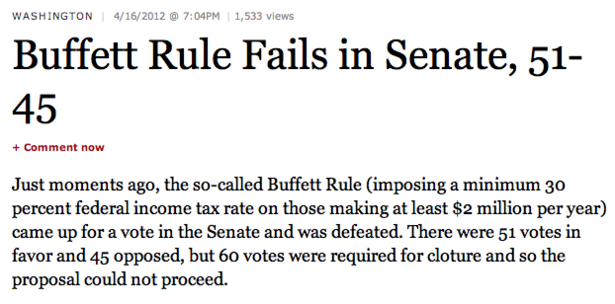 "Fails" in the Senate? Unt-goddam-uh. It won majority support but was
blocked
in the Senate. The NYT has shown how easy it is to put it just that way. And the
Washington Post too
, with the "rejects consideration" terminology:
Thanks, Times and Post! We are clearer now about what is actually happening. (Forbes headline-writer, time for a little
self-reflection
.)