Edwards Trial Could Be New Blow to Campaign Finance System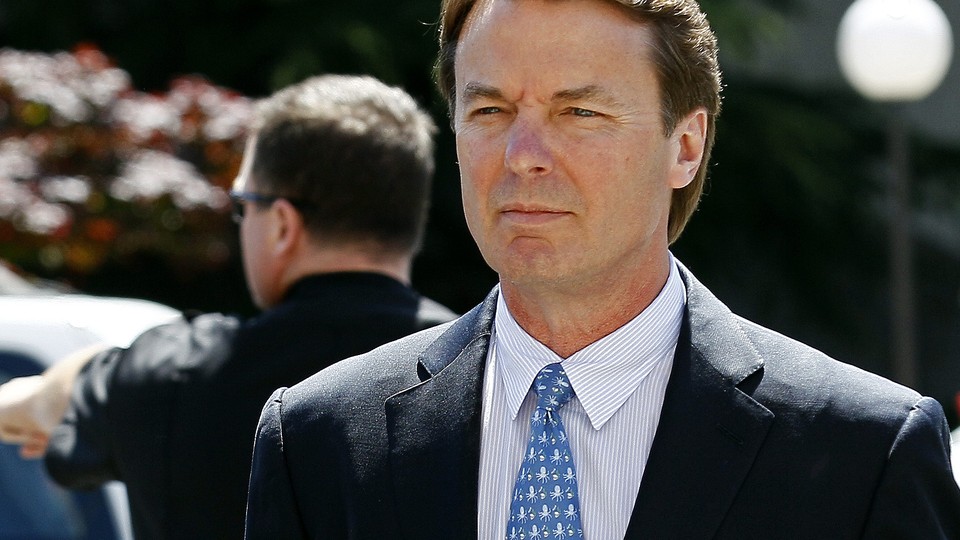 The criminal trial of John Edwards has accomplished what seemed impossible for a former presidential candidate who cheated on his cancer-stricken wife: elicit sympathy.
Legal "" not moral -- reasoning has propelled the rush to his defense, and it's been a vociferous pushback. A cadre of influential campaign finance experts has argued that federal prosecutors might be unfairly targeting Edwards over the nearly $1 million, drawn from the coffers of two wealthy donors, spent to hide his pregnant mistress, Rielle Hunter, during the 2008 presidential campaign.
Their bottom line: The legality surrounding the payments is a gray area at best, and criminal, rather than civil, punishment could establish a dangerous precedent that risks increasing future political prosecutions.
But as the trial began on Monday, a group of longtime campaign law observers suggested that dismissal of the case could have huge implications for federal regulation of how campaigns are financed. If the prosecution is unsuccessful and the Federal Election Commission takes no follow-up action, they say that the verdict could open yet another floodgate for well-heeled donors to wield influence over political candidates in a system already awash in money.
"Why wouldn't a wealthy individual be able to pay for the tuition of a candidate's kids going to college? Or a mortgage?" asked Jan Baran, a Republican campaign finance lawyer. "Maybe they'll get them a second vacation home. There are some very fundamental issues at stake here."
The charges against Edwards stem from $925,000 that two of his donors, the late Fred Baron and heiress Bunny Mellon, used to hide and support Hunter during the onetime North Carolina senator's 2008 presidential campaign. Prosecutors allege that the funds amounted to unreported campaign donations because their intent was to protect his political career.
Lawyers for Edwards, who has pleaded not guilty, have said he did not know about the payments, although no one denies they were made.
Defenders of Edwards have said that the charges unfairly blur the lines between personal and political spending. But Meredith McGehee, policy director for the Campaign Legal Center, says that argument obscures the larger problem with the allegations. The bottom line, she said, is that Edwards benefited from the largesse of his donors, an arrangement that many citizens see as a clear-cut bribe.
"This is what people think politicians do: They find some way to get rich people to give them money and then do favors for them," McGehee said.
A prosecutorial failure in the Edwards case would fit what campaign finance watchdogs view as a debilitating pattern. They have watched the regulatory structure governing money in politics "" one that has stood since Watergate "" systematically crumble in recent years. The Supreme Court's landmark 2010 Citizens United v. Federal Election Commission decision opened the path for outside groups to spend hundreds of millions of dollars on campaigns, some of the money raised anonymously.
Conservative groups American Crossroads and Restore Our Future, a super PAC allied with Mitt Romney, each are expected to spend hundreds of millions of dollars on the presidential campaign. They have become political fixtures, enormously influential and a critical piece of electoral strategies. Liberals are trying to build a similar infrastructure with groups such as Priorities USA Action.
McGehee and Baran emphasized that prosecutors must show evidence of a willful, deliberate scheme by Edwards to ensure that Hunter wouldn't become a political liability. A loss would not just let Edwards off the hook "" it would send a message to donors shopping for influence.
"The message could come out from this trial that we have all this post-Citizens United money sloshing around system, and now we're saying, "˜It's OK for these politicians to get wealthy people to get these kind of issues swept under the rug?'" McGehee said. "Really? That's the kind of campaign system we want?"
The counterconventional opinion has its critics, many of whom argue that a successful prosecution would set a more dangerous precedent than a failed one. Their ire centers on the fact that the charges are criminal instead of civil, which some experts consider a glaring and potentially harmful overreach of federal authority.
"Criminal liability for campaign finance violations should be off the table except in the most concrete and egregious cases," Rick Hasen, a professor of law and political science at the University of California (Irvine), wrote in Slate. "Otherwise, we risk deterring not just the unscrupulous, but also those who want to exercise their First Amendment rights by running for public office or supporting the candidates whom they believe will advance the public good.
"Even if John Edwards doesn't deserve our sympathy, his conviction won't do us any good."
Other experts outright dismiss concerns that an innocent verdict for a former presidential candidate would damage campaign finance laws. Ken Gross, a campaign finance lawyer who once worked on the case for Edwards but no longer does, said that the case is simply too atypical to set precedents. Anyone making that connection is "ill-advised," he said.
"It has so many unique facts in this situation, involving personal relationships between the donor and the ultimate recipient, the sexual aspects of it," Gross said. "I don't think you can draw an inference from an unusual case."