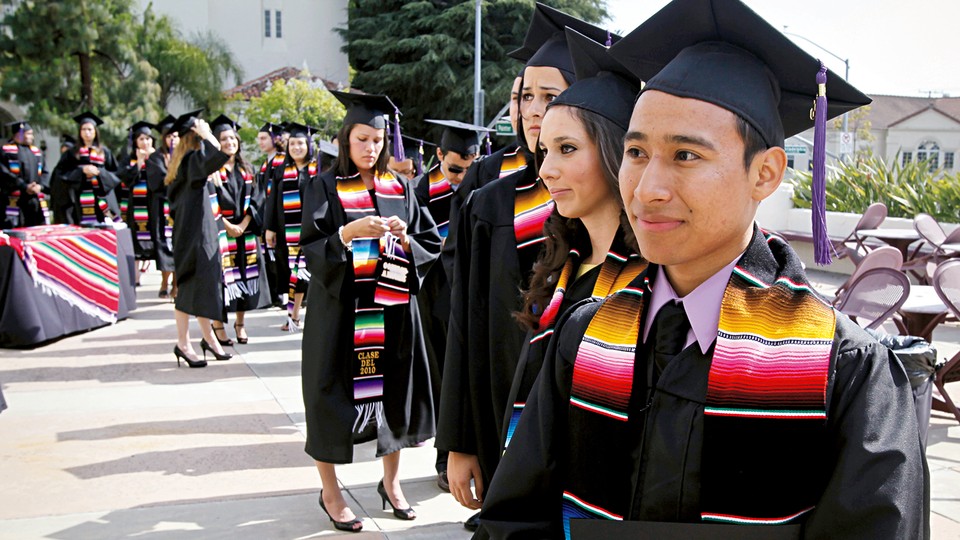 It's unclear whether the lifeline that Sen. Marco Rubio, R-Fla., is offering Mitt Romney is long enough to lift the presumptive Republican presidential nominee from the hole he dug with Hispanic voters during the primary race. But Romney's odds of extricating himself will almost certainly improve if he accepts, rather than rejects, Rubio's help.
Rubio's lifeline is the alternative he is formulating to the Dream Act backed by President Obama and most congressional Democrats. Their proposal would allow the children of illegal immigrants to remain legally in the U.S. and eventually to obtain citizenship if they serve in the military or attend college. Rubio's version, which he will likely introduce this summer, would instead provide to these young people nonimmigrant work visas that would allow them to remain legally in the U.S. but would not guarantee them citizenship. Significantly, though, Rubio's approach as he has described it would not preclude those children from following the same pathways to citizenship available to others holding that type of visa, such as marrying an American citizen or receiving sponsorship from an employer.
Romney remained noncommittal about Rubio's proposal on Monday as the two men campaigned together in Pennsylvania. Although he didn't criticize Rubio's initiative, neither did he say anything that might boost the senator's ongoing efforts to build support with conservatives and other Senate Republicans. Romney's language was tepid enough to disappoint and worry some in the party who hope that the GOP will rally around the proposal.
Even if Romney supports Rubio's legislation, that by itself is unlikely to undo all of the damage the former Massachusetts governor suffered with Hispanic voters during the GOP primaries, when he used immigration as a club to undermine his rivals' conservative credentials. In that effort, he pledged to veto the Democratic-version of the Dream Act; praised the tough Arizona immigration-enforcement law (and said he would have dropped the federal lawsuit against it that the Supreme Court heard this week); and denounced any pathway to citizenship for illegal immigrants. Instead, he said, he would pressure the estimated 11 million illegal immigrants to "self-deport" by stiffening enforcement of laws against hiring and aiding them.
The effect of all those proposals is evident in recent polls showing Obama, when matched against Romney, equaling (or exceeding) the two-thirds of the Hispanic vote that he won in 2008. In several of those surveys (such as last week's University of Phoenix/National Journal Next America Poll), Obama's share of the vote among Latinos notably exceeds his approval rating with them. That's a telling measure of how much Romney has alienated those voters, because it's unusual for a president to poll much above his approval rating with any group. Obama's current standing also represents a recovery from the Democrats' decline with Hispanics in the 2010 election. While Latinos are disappointed about the economy and disenchanted with Obama for not stressing immigration reform, "Republicans have to adopt a tone that clearly views Hispanics as a part of a center-right coalition and be very aggressive in their efforts to reach out," says GOP pollster Whit Ayres, who advises the right-leaning Hispanic Leadership Network.
Rubio isn't formulating his bill to benefit Romney. But for Romney to embrace it would send "a very important signal to Hispanic voters," Ayres argues. It could also align Romney with groups holding substantial credibility in that community. Publicly, immigrant-rights groups generally argue that Rubio's concept doesn't go far enough because it lacks a guaranteed pathway to citizenship for the young people involved. But private conversations already under way suggest that Rubio's concept could divide Democrats and attract significant support among immigration advocates, at least as a starting point for discussion and perhaps even as the endpoint of an agreement. "If the concept as he has laid it out is translated into decent legislation and he brings Republican support to the table, it's a game changer," said Frank Sharry, executive director of the pro-immigration reform group America's Voice.
Rubio's ability to deliver on the second half of Sharry's equation — attracting other Republicans — remains uncertain. The senator's supporters take heart from the dogs that aren't barking yet on the right. "Given how much coverage this potential bill has received "¦ so far, at least, there have been very, very few conservative voices who have sprung up to criticize it," one Rubio adviser said. The one exception is Kris Kobach, the hard-line Kansas secretary of state, who Romney earlier welcomed as an adviser but has lately tried to distance himself from.
In Ayres's polling for the Hispanic Leadership Network, most rank-and-file Republicans supported Rubio's approach. But Kobach has pointedly reaffirmed his opposition to any program that provides legal status to those who arrived illegally, even though he hasn't entirely closed the door on Rubio's approach. That suggests other conservatives may yet recoil at it as well. If that prospect deters Romney from endorsing Rubio's plan, such a public snub would hobble the senator's effort to win GOP support and simultaneously deepen Romney's problems with Hispanic voters. It would also leave Romney violating one of the oldest rules in politics: When you're in a hole, stop digging.
This article appeared in the Saturday, April 28, 2012 edition of National Journal.