And This Is Why It Was Foolish to Crack Those Teleprompter Jokes
Senator Marco Rubio, who mocked Obama for reading his speeches, gets a lesson in karma from a lost leaf of paper.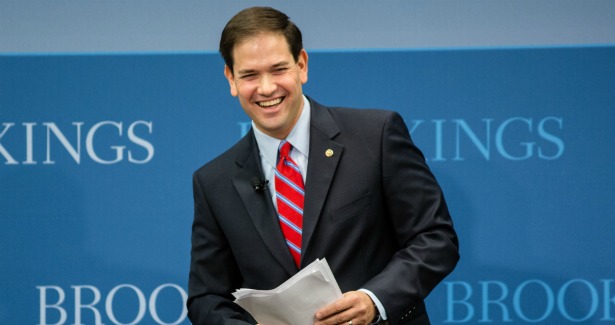 Brendan Hoffman / Getty Images
It was bound to happen eventually, but it's especially poetic that it happened to a man sometimes described as the Republican Obama. After months of conservative politicians and pundits nonsensically attacking the president for reading his speeches from a teleprompter, here's a study in karma, via Taegan Goddard:
"The most articulate and talented teleprompter reader in America."

-- Sen. Marco Rubio (R-FL), quoted by the New York Times, mocking President Obama in 2010.

"I left my last page of the speech, does anyone have my last page? Did I Ieave it with you?"

-- Rubio, while giving a speech today at the Brookings Institution.
It can't really be overstated how silly the original attack on Obama was. Most politicians use written speeches, and this shows why it's easier to read from a teleprompter than from paper. As for those politicians who don't read from speeches -- well, Herman Cain is a talented extemporaneous speaker, but it's not coincidental that he also committed repeated verbal missteps.
This concludes today's segment in unforced and embarrassing but ultimately meaningless errors. You may return to watching clips of President Obama slow-jamming the news.