Why Congress May Be Done for the Year
It's not even spring yet, but with the elections looming, the House and Senate may already have done everything they will do in 2012.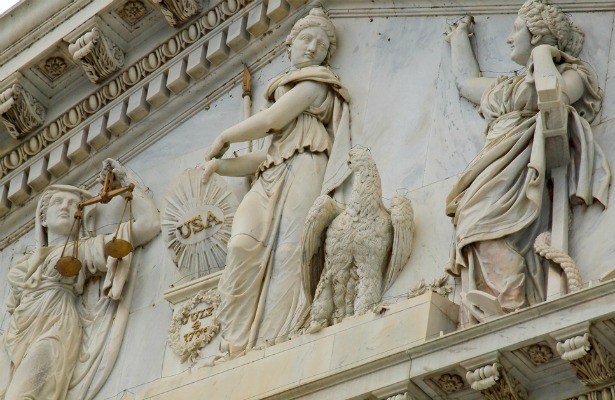 The American people think Congress is broken and judging by its track record that assessment is accurate.
The average House and Senate member now sides with their party about 90 percent of the time, according to a recent Congressional Quarterly study, a level of lockstep agreement that reflects the most profound partisan polarization in Congress in 100 years. Now, with Democrats trying to hold onto their majority in the Senate and Republicans trying to win it as the election draws closer, the chance that legislative comity might improve is close to vanishing.
That means that this past February's burst of action, which included an extension of the payroll tax cut, unemployment insurance and dealing with doctors' Medicare reimbursement rates, might be that last significant raft of legislating Congress does this year.
"I didn't get the memo that you get to take presidential election years off," Senator Mark Warner, D-Virginia, joked ruefully in a recent interview.
But because most members right and left now represent safe Republican and Democratic seats, all they have to do is play to their base to get re-elected. And that is exactly what they have set about doing.
Instead of addressing the tough choices before it on jobs, the deficit and budget issues, Congress has been having a series of "message votes" allowing members to rally their core supporters, even though they know the legislation they are voting on has no chance of passage.
The most recent example of this is the failed Blunt amendment -- the amendment to the highway bill put forth in the Senate last week by Missouri Republican Roy Blunt. Puns about the rubber meeting the road aside, the Blunt amendment would have allowed any employers "with moral objections" to opt out of not only the required birth control coverage but any health service for their workers contained in the 2010 health reform law with which they didn't agree.
Maine's Olympia Snowe was the only Republican Senator to oppose the Blunt amendment, reinforcing what a pivotal role she has played in the Senate and how much she will be missed.
In announcing her departure from the Senate last week, Snowe bemoaned that "an atmosphere of polarization and 'my way or the highway' ideologies has become pervasive," adding "I do not realistically expect the partisanship of recent years in the Senate to change over the short term."
Snowe, along with fellow Maine GOP moderate Susan Collins, has one the most independent records in the Senate, voting with the GOP leadership only about 70 percent of the time.
"I believe we have seen a steady increase in the partisanship and the personal attack mode of politics over the last decade that has resulted in a political climate that is as partisan and gridlocked as I have ever seen it," observes Republican Senator Michael Crapo of Idaho, who has served in Congress for 20 years.
That means it's extremely tough to actually legislate. Both parties dream of a world in which they control the presidency and both houses of Congress, but that would do little to solve the problem of our divided politics. Indeed, when Democrats did control everything during the first two years of the Obama Administration, they passed health-care reform without a single Republican vote. Republicans are still campaigning on this and trying to repeal the law.
According to Bloomberg News, Congress passed just 80 laws in 2011, the lowest number since the Congressional Record began keeping an annual tally in 1947. One-quarter of those were naming post offices and other federal buildings and appointing members to the Smithsonian Institution's Board of Regents.
It's been years since Congress actually passed a budget and handled the appropriations bills for each federal agency the way it is supposed to, rather than bumping up against deadlines and funding the federal government using massive catch-all continuing resolutions.
It seems Congress can only act when it is facing a crisis or deadline, which the $1 trillion federal deficit will soon again provide. Since the Supercommittee failed to come up with a deficit reduction plan last fall, a mechanism called a sequester was created which triggers an automatic $1.2 trillion, 10-year across-the-board budget cuts that will take effect at the end of the year if Congress doesn't do something first. (That's if there isn't some kind of international monetary crisis first.)
After the Supercommittee debacle, Snowe issued a statement saying that the failure to come up with a deficit reduction plan "represents yet another regrettable milestone in Congress's steady march toward abject ineffectiveness."
Democratic Senator Michael Bennet of Colorado, a member of the Gang of Eight deficit reduction group, says he thinks the only way to win back the public's trust is to deal with the deficit head-on: "If our constituents believe we're taking this on with a seriousness of purpose that might do wonders for Congress' approval rating."
In addition to the deficit reduction cuts, there are a number of other things that are slated to happen at the end of the year if no further action is taken, including the expiration of the Bush tax cuts and another 60 tax provisions.
Maybe a post-election lame duck congressional session will deal with these issues, but extending short term fixes when deadlines arrive rather than really solving problems seems to be all that Congress can manage these days.
In fact, Congress can't even seem to pass the highway funding bill, which has always enjoyed bipartisan support in the past, thanks to its funding of local infrastructure projects around the country. House Speaker John Boehner has listed it as a priority, but can't seem to get the votes from his own members.
So what does that leave as the major agenda item for the rest of the 2012 Congress?
When Senate Majority Whip Dick Durbin was asked by Politico what it can do this year, he responded: "Postal reform."
Image credit: Shutterstock