Romney's Rise Today Comes With A Steep November Price Tag
President Obama's ratings among working-class whites have improved significantly since the Republican primaries and caucuses began.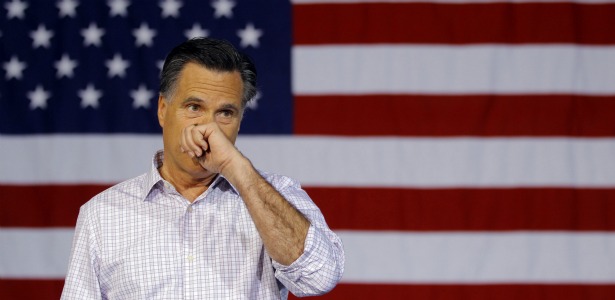 The new NBC/Wall Street Journal national survey released Monday, like the NBC/Marist polls released yesterday in the key swing states of Ohio and Virginia, quantify the broad sense in both parties that Mitt Romney's slog toward the GOP nomination has come at a palpable price for November.
In the NBC/WSJ survey, Obama held a 50 percent to 43 percent advantage over Romney nationally, up from a 47 percent to 44 percent lead in the average of the news organizations' polls during the second half of 2011, just before the voting began in the Republican race. What's especially striking about the new survey is that it shows Obama has made his biggest gains among the group that has consistently resisted him the most: white voters without a college education.
---
MORE FROM NATIONAL JOURNAL
---
In the NBC/WSJ surveys through the second half of 2011, Romney led Obama among those working-class white voters by a commanding 52 percent to 38 percent, according to figures provided by Bill McInturff, a Republican pollster who conducts the survey with Democrat Peter Hart. But in latest survey, Romney's advantage with those voters had shriveled to just five percentage points -- 48 percent to 43 percent. By comparison, in 2008 non-college white voters backed John McCain over Obama by a resounding 58 percent to 40 percent; Republicans won even more of them (63 percent) in the 2010 Congressional election.
Romney's eroding advantage among working-class whites tracks recent ABC/Washington Post polling showing Romney with an anemic favorability rating no better than Obama's among those voters. These numbers are bound to increase Democratic optimism that the focus on Romney's business career at Bain Capital, and his repeated comments highlighting his personal wealth, may create greater openings than almost anyone expected for Obama with blue-collar whites. If Obama could actually hold as much white working-class support as the NBC/WSJ poll gives him today, he'd bank it in a heartbeat: No Democratic presidential nominee since 1988 has carried more than 44 percent of non-college white voters.
Over the same period, the NBC/WSJ survey showed more modest, but still visible, gains for Obama with white-collar whites. In the average of the late 2011 surveys, Romney led Obama among those voters by 51 percent to 41 percent. In the new survey, Obama cut that advantage in half, drawing 45 percent to Romney's 50 percent. Obama's figure is now converging toward the 47 percent of college-educated whites he carried in 2008.
The NBC/Marist results from the Virginia and Ohio polls suggest greater upscale vulnerability for Romney. The Virginia survey, which gave Obama a crushing 17 percentage point lead over Romney, showed the president actually drawing only the same meager percentage of Virginia non-college whites as he did in 2008: just 32 percent, according to figures provided by Lee Miringoff, director of the Marist College Institute for Public Opinion. But the poll found Obama attracting 49 percent of college-educated whites, up from his 44 percent figure in 2008, and holding big leads among minorities.
Republicans are likely to look skeptically at the Virginia poll, because it shows Democrats outnumbering Republicans in the state by 12 percentage points, double their actual advantage in the 2008 exit poll. But even re-weighting the results to assume that Republicans and Democrats represent the same share of voters as they did in 2008 still leaves Obama with a 10 percentage-point edge over Romney. The survey showed Obama leading among independents by double digits; perhaps most imposingly, Obama held his strong lead while winning only 40 percent of whites, a number that underscores the political power of demography in diversifying states like Virginia.
Like the Virginia survey, the NBC/Marist Ohio poll showed Obama leading Romney among college-educated whites, 48 percent to 43 percent; in 2008, he split Ohio college whites almost exactly evenly with John McCain. In the survey, Obama trailed Romney among Ohio non-college whites by just two percentage points, a much more manageable difference than his 10 point gap against McCain in 2008. This survey found a slightly wider partisan advantage than Democrats enjoyed in Ohio in 2008, but even reweighting the results to reflect that shift left Obama with a solid nine point lead.
In 1992, Bill Clinton demonstrated that a candidate who emerged from the primaries battered and bloodied could restore his image enough to win the general election. (Clinton was the only recent nominee whose favorable-unfavorable ratings in the national NBC/WSJ survey were as weak as Romney's at this point in the election cycle.)
That opportunity will remain for Romney if he captures the GOP prize. But one final result from the NBC/Marist polls underscores the challenge he will face in trying to reposition himself after a primary contest in which he's moved steadily to the right on both economic (tax cuts, transforming Medicare into a premium support system) and social issues (like contraception and immigration): in both Ohio and Virginia the surveys found Obama attracting almost exactly three-fifths of moderates -- the same dominant share he won in capturing both states last time.
Image: Brian Snyder / Reuters