Rick Santorum's Super Tuesday Moral Victory
A close vote in Ohio keeps the race tough for Mitt Romney and allows the former Pennsylvania senator to stay in the delegate hunt.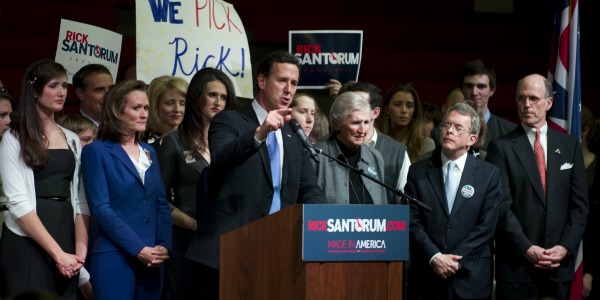 STEUBENVILLE, OHIO -- Mitt Romney's people thought Mitt Romney was going to win Ohio on Super Tuesday. Rick Santorum's people thought Mitt Romney was going to win Ohio, too.
But in the end, the result was closer than anyone anticipated, with Romney pulling narrowly ahead late Tuesday night by a margin of a single percentage point. Santorum, who had led early returns for much of the evening, had clearly given Romney a bad scare, and it was enough for him to claim a moral victory.
"We've won races all over this country against the odds," Santorum told a few hundred supporters who gathered in a high-school gymnasium in this Ohio Valley steel town, not far from Pittsburgh on the other side of the Ohio River. "When they thought, 'OK, he's finally finished,' we keep coming back. We are in this thing."
Santorum nearly won this pivotal state despite having been outspent by a wide margin. In the other states that voted, Romney also underperformed somewhat. He won Idaho, Massachusetts, Vermont, and Virginia, but Santorum took Oklahoma, Tennessee, and North Dakota, while Newt Gingrich ran away with Georgia.
Santorum's chief strategist, John Brabender, said GOP voters were sending a message to Romney: Not so fast. "He's saying, 'It's halftime, I'm winning, let's call the game.' And people aren't buying it," Brabender said.
The Republican race has taken on a Groundhog Day quality. Every state that votes seems to reset the clock from zero. Every step toward victory by the ostensible front-runner gets greeted by an equal and opposite backlash.
Santorum has proven to be an unexpectedly resilient candidate. Unlike Romney's previous chief rival, Newt Gingrich, he has declined to implode on his own, despite a penchant for regrettable statements and a slapdash campaign operation. The barrage of attacks from Romney and his super PAC do not seem to have convinced voters he's unacceptable.
"He has something you can't buy and can't make up, and that is he's got the ability to connect with people," said Ohio Attorney General Mike DeWine, who switched his support from Romney to Santorum, his former Senate colleague, a couple of weeks ago. "He may mathematically lose tonight, but he has won."
Romney, meanwhile, "is not improving. He's no better a candidate than he was four years ago," DeWine said.
In his speech here Tuesday night, Santorum signaled he plans to continue his focus on Romney's health-care record, using new evidence of Romney's recent support for federal health-insurance mandates to paint him as not only a traitor to conservatism but deceptive as well. Santorum has yet to explain his own
imperfect record
on the issue, but it's a topic that undoubtedly resonates with primary voters.
Michael Foit, a 58-year-old delivery truck driver in Amsterdam, Ohio, who came to see Santorum in Steubenville, said he saw Romney's pursuit of health-care reform as indicative of a dangerous openness to government intrusion in people's lives. "I'm leery when it comes to people with socialistic ideas," he said. "We are not a socialistic country."
How big a setback Romney has really been dealt remains to be seen. Next on the calendar come primaries in Kansas, Alabama, and Mississippi, all of which could be difficult territory for Romney. Though Gingrich remains a wild card, his failure to perform in Tennessee and Oklahoma -- he finished third, behind Romney, in both states -- doesn't bode well for his supposed strategy of doing well in the South. Santorum hopes that even if Gingrich stays in, voters will now abandon his candidacy as unviable.

Nonetheless, Romney retains a sizable advantage in terms of delegates and will get more delegates out of Ohio because Santorum failed to file delegate slates in some counties. If he does manage to pull it out, it seems clear it will be not with a bang but a whimper. As in Ohio, it will be narrowly, down to the wire, and with the maximum amount of stress and suffering.
Image: JIm Watson / Getty Images