Rick Santorum's Last-Ditch Romneycare Push
Desperate for a Super Tuesday splash, the GOP candidate attacks Romney on health care -- but doesn't account for his own complicated history.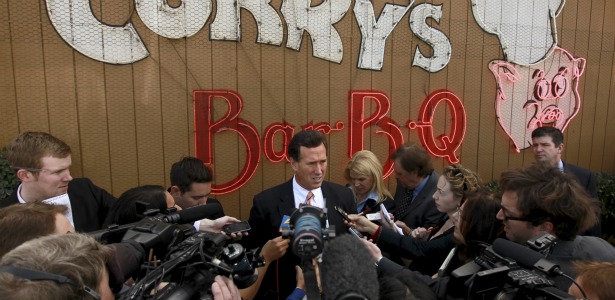 BOWLING GREEN, OHIO -- As Rick Santorum and Mitt Romney spent the last day before Super Tuesday campaigning across Ohio, Santorum made a last-minute push to remind voters of Romney's record on health care. But the attack was complicated by new revelations about Santorum's own record of support for health-insurance mandates.
"Governor Romney is an advocate for the individual mandate. He continued to advocate for it, not just for Massachusetts but for the federal government," Santorum said on a conference call with reporters Monday afternoon. "During the heart of the debate over Obamacare in 2009, he stepped forward to advocate for an individual mandate."
Santorum was referring to a recently unearthed 2009 
op-ed and interview
in which Romney proposed that people who chose not to buy health insurance should face a tax penalty. These comments, he said, prove what conservatives already knew -- that Romney can't be trusted.
"People are starting to realize that what you have with Governor Romney is just simply not a genuine article -- not someone you can trust on the issue of big government," he said.
Santorum contrasted Romney's record with his own: 20 years ago, he said, he called for the creation of medical savings accounts, "a private-sector way of solving this problem of access to health care [and] reducing costs." But new evidence suggests that like many conservatives who sought to thwart then-President Bill Clinton's health-care proposal, Santorum also supported health-insurance mandates in the 1990s.
News accounts from his 1994 Senate race have Santorum supporting mandates as the alternative to Hillarycare,
BuzzFeed reported
. And in 1993, he said in a local TV debate that "the marketplace" couldn't be trusted to provide the best health-care system,
Mother Jones reported Monday
. "I take a much more proactive position in government in solving problems than most Republicans, because I believe government has a role," he said.
Santorum, it seems, has been caught in the same trap as Newt Gingrich, who also jumped on the mandate bandwagon as the alternative to Hillarycare in the 1990s. At the time, conservative voices such as the Heritage Foundation were promoting mandates as the way to push personal responsibility in health care (though there is evidence that Gingrich continued to support the idea until just a couple of years ago).
On Monday's call with reporters, Santorum didn't address the tension between his record and his self-description as the consistent "conservative you can trust." After talking for just over five minutes, he hung up without taking questions.
Santorum said on the call that between Romney's campaign and super PAC, he's being outspent by a 12-to-1 margin in Ohio, where polls continue to show a very close race. A Suffolk University poll of the state released Monday put Santorum ahead of Romney, 37 percent to 33 percent.
Santorum is right about Romney, whose claim that his support for mandates was limited to the state level in Massachusetts was always both tenuous and disingenuous. But the new evidence on Romney won't surprise many conservatives or change the image of him as a politician: compromising, technocratic, not particularly ideological.
For Santorum, on the other hand, the new evidence could be more damaging. That's why Romney and his allies are spending so much money attacking him: to destroy his image as the unimpeachable conservative. To be the alternative to Romney, he must be pure. If he isn't, voters might as well stick with the less exotic choice -- Romney.
Image: Nikki Boertman / Reuters