Quote of the Day: Obama Knew About Jeremy Lin First
The president's boast has critics calling him a hipster. But is the real explanation simpler?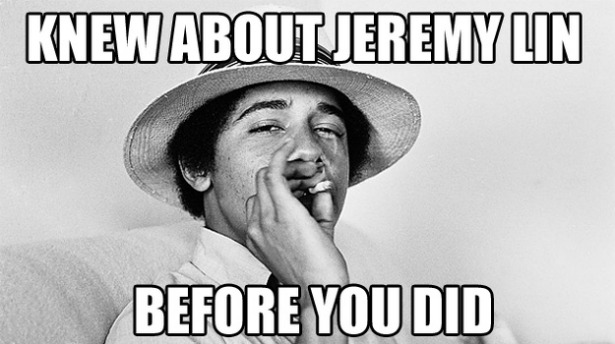 President Obama is unimpressed by your fervor for Jeremy Lin. He was into that dude way before the Knicks star was a Knicks star -- and even before he'd graduated from college. Here's what he told Bill Simmons, the ESPN writer and Grantland impresario, during an interview:
BS: So you're catching up, obviously, on the fact that you had been surpassed as the most famous person who was a Harvard graduate.

Obama: Jeremy is --

BS: Jeremy Lin.

Obama: -- doing good. And I knew about Jeremy before you did, or everybody else did, because Arne Duncan, my Secretary of Education, was captain of the Harvard team. And so way back when, Arne and I were playing and he said, I'm telling you, we've got this terrific guard named Jeremy Lin at Harvard. And then one of my best friends, his son is a freshman at Harvard, and so when he went for a recruiting trip he saw Lin in action. So I've been on the Jeremy Lin bandwagon for a while.

BS: Are you taking credit for "Linsanity"? It kind of feels like you are a little bit.

Obama: I can't take credit for it, but I'm just saying I was there early.
It's a classic hipster argument: I was into it before it was cool. And the interview was published just one day after Senator Orrin Hatch accused the president of having "traded in the hard hat and lunch bucket category of the Democratic Party for the hipster fedora and a double skim latte." That led BuzzFeed to create an Obama hipster meme, from which the image above comes (the whole series is worth checking out).
Although we've made fun of Obama's hipster tendencies in the past, our theory on this one is simpler: Basketball-loving Ivy Leaguers with protruding ears have a natural affinity.
Image: BuzzFeed